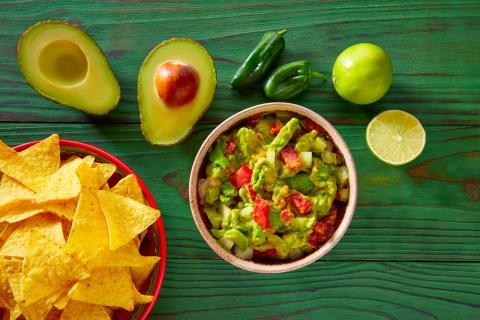 I like salsa.  I like salsa a lot.  In fact, sometimes I roam around the house, looking for innocent vessels to be unwitting accomplices in my salsa-scooping mania. 
See, the thing about salsa is that it is so versatile.  It's like saying you like pizza or sandwiches—there are so many different variations that of course you do, because there's a pizza (or salsa) out there for everyone!  And even if you had it yesterday, you can still have it today—just try a different spin on it.
Salsa is especially perfect for summer.  Of course, all the ingredients are at their freshest—tomatoes are ripe, peppers are abundant, and fruit is aplenty.  But salsa also just goes so perfectly with the other things we eat and do during the summer—lazy barbecues where we graze for hours, fresh salads that feature whatever is in the garden, picnics at the park with all our friends, handheld tacos that we assemble ourselves at an impromptu dinner party…salsa fits in everywhere!
Have I convinced you yet?  If not, keep reading.  I give you a super simple salsa base and then 5 different ways to customize it to fit whatever summer festivity is on your calendar.  You won't be disappointed.
Basic Salsa Base
1-2 teaspoons lime zest
1-2 Tablespoons lime juice
1 garlic clove, minced
1/4 cup chopped red onion
1/4 chopped cilantro
salt & pepper, to taste
Peach & Pepper Salsa
To the Basic Salsa Base, add…
3-4 diced peaches
jalapeno, diced (use less if you like less heat)
1/2 teaspoon fresh ginger, grated
Mango Basil Salsa
To the Basic Salsa Base, add…
1 mango, chopped
6 basil leaves, torn
dash of cayenne or hot sauce, to taste
Tomatillo & Avocado Salsa
To the Basic Salsa Base, add…
4 roasted tomatillos
1 avocado
1/2 jalapeno (or more, to taste)
Salsa Fresca
To the Basic Salsa Base, add…
3-4 tomatoes, diced
jalapeno, diced (use less if desired)
red bell pepper, diced
Black Bean & Corn Salsa
To the Basic Salsa Base, add…
1-2 cups corn
1-22 cups black beans
3-4 tomatoes, diced
1 clove garlic, minced
Looking for some good food to put these salsas on?  Try these: