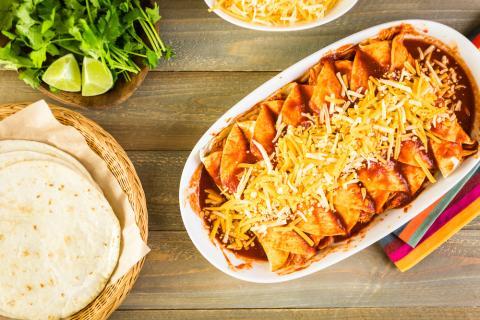 I've always loved enchiladas because they're a quick alternative to other typical weeknight Mexican dishes such as tacos or chili. My mom used to make a version of these enchiladas with chicken, but I've since turned the recipe into a vegetarian option with a variety of flavors and textures.
The key to making this dish exactly what you want is the filling and the sauce. I recommend a medium-hot green chile enchilada sauce, but it's also available in mild or hot, based on your preference. I always add garlic salt, cumin, and chili powder to the black bean and onion mixture, but for those looking to add a kick, using cayenne pepper or hot sauce is another way to enhance the heat and flavor. Since everything is cooked before you fill the tortillas, you can taste the filling as you add spices and perfect them as you go.
Green Chile, Black Bean & Potato Enchiladas
Serves 6
Ingredients
12 corn tortillas
1 (28-ounce) can green chile enchilada sauce
1 (16-ounce) package of shredded cheddar cheese
2 (14-ounce) cans of black beans
1 yellow onion
6 red potatoes
garlic salt to taste
2 Tablespoons cumin
2 Tablespoons chili powder
1 Tablespoon olive oil
Directions
Drain black beans and rinse with cold water. Set aside in a bowl.
Slice onion. Heat olive oil in a pan over medium-high heat. Add onions and sauté until translucent (about 4 to 5 minutes).
Add onions to the bowl of black beans. Add 1 tablespoon of cumin and 1 tablespoon of chili powder, and add garlic salt to taste. Mix together, and then mix in about half a cup of the green chile enchilada sauce.
At the same time, boil the potatoes in a pot of water on the stove until completely cooked through. Strain the water except for about 1/4 cup left in the bottom of the pot. Mash the water in with the potatoes. Add 1 tablespoon of cumin and chili powder, and add garlic salt to taste.
Preheat the oven to 350 degrees Fahrenheit. Heat each tortilla over the open flame of a gas stove burner, switching sides, for about 1 minute until lightly puffed and flexible.
Lightly coat the bottom of a 9-by-13-inch baking dish with a layer of enchilada sauce (to avoid the enchiladas sticking to the bottom).
Take a tortilla, and spread a spoonful of the potato mixture across the middle. Place a spoonful of the black bean and onion mixture on top of that, and then sprinkle some cheese on top.
Roll up the tortilla and place it in the baking dish with the folded part facing down. Repeat this step until all 12 tortillas are rolled up and situated in the dish.
Evenly spread enchilada sauce over the top of the enchiladas. Then, evenly sprinkle with cheese. Cook enchiladas in the oven for about 30 minutes or until golden brown.
Cover Image Source: Wikimedia