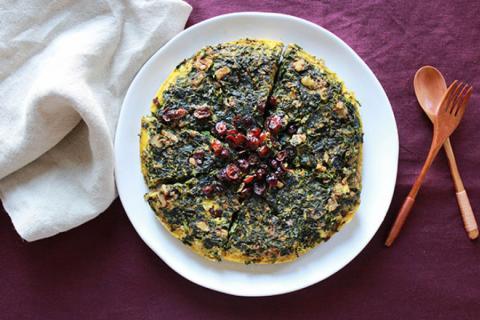 If you'd like an easy, flavorful, nutrient dense meal, look no further than today's Meatless Monday recipe: kuku sabzi, a Persian version of a frittata loaded with fresh herbs. And when I say loaded, I mean it—unlike a frittata, where eggs feature prominently, greens are the main attraction in a kuku sabzi. And if you're anything like we are at basmati.com, you love your greens, probably just as much as you're going to love the versatility of this dish.
Serve it warm, at room temperature, or cold; as an appetizer or main meal with salad, rice, yogurt, and bread. Any way you serve it, kuku sabzi is delicious and will enliven your table with its gorgeous green color dotted by deep, vibrant red—courtesy of the dried fruit.
What Is Meatless Monday?
This kuku sabzi is part of our weekly Meatless Monday recipe series. Meatless Monday is a global movement with a long history in the United States. Meatless Monday campaigns were successfully used to encourage rationing during both World Wars, but since its current inception in 2003, Meatless Monday's reason for being has to do with health, both human and environmental. These are of course big issues, but Meatless Monday is non-dogmatic and non-political. In a time of ever changing health and nutritional philosophies, the simple encouragement to eat more plants is not only refreshing, it's also an easy idea to put into action, particularly with the support of a big, diverse community. Meatless Monday participants stretch across more than 40 nations.
Can You Have Eggs On Meatless Monday?
Yes, you can have eggs on Meatless Monday. Meatless Monday is about encouraging people to eat more plants; it's not about turning everyone vegan or vegetarian. And as long as you can digest them, eggs are a great addition to all kinds of vegetarian dishes: soups, salads, sandwiches, fried rice, pasta, the list goes on and on. I would add, please choose organic and pastured eggs when possible, not just for your own health, but also for our animal friends and the earth. 
Making The Perfect Kuku Sabzi
There are many versions of kuku sabzi with different greens, some with a little sugar, some with a little flour. Some recipes call for you to sauté the greens, others toss everything into the pan at once. The point here is: just go for it! The idea behind this recipe is simply to get you into the kitchen to discover how easy it is to make delicious, healthy food. Another added benefit of kuku sabzi is that it's a wonderful way to use any extra herbs and spices you have on hand. And as winter begins to age, gathering a bunch of herbs and creating this beautiful green open-face omelet will not only nourish you, it will also bring to mind what spring has in store.   
Kuku Sabzi, or Persian Fresh Herb Frittata (Vegetarian, Gluten-Free)
Serves: 4 -6
Prep Time: 10 minutes
Cook Time: 30 minutes
Total Time: 40 minutes
Ingredients 
3 Tablespoons extra-virgin olive oil, ghee, or butter
1/2 cup chopped walnuts
1/2 teaspoon ground cinnamon
1/2 teaspoon ground cardamom
1/4 teaspoon ground cumin
2 garlic cloves, minced
8 large eggs
sea salt and freshly milled black pepper, to taste
1 bunch scallions, finely chopped
1 cup fresh parsley
1 cup fresh cilantro
1/2 cup + 1 Tablespoon dried unsweetened barberries or cranberries, soaked in water for 10 minutes, drained and rinsed (see note below)
Directions 
Heat the oven to 350 Fahrenheit. In a 10-inch oven-proof skillet, heat the oil.
While the pan is heating, lightly beat the eggs and add a pinch of salt and pepper.
When the pan is hot, add the chopped walnuts, dried herbs, and garlic, and cook until fragrant, around 4 minutes.
Add the scallions and fresh herbs and cook until wilted, around 2 minutes more.
Add the eggs and 1/2 cup barberries or cranberries, smooth out the mixture, and transfer the skillet to the oven. Bake for around 15 minutes, until well browned and puffed.
Check the underside of the kuku. If it's well browned, cut it into quarters, turn the pieces over in the pan and put it back in the oven for 5 minutes or longer, until brown. Remove the kuku from the oven and transfer to a plate to cool for a few minutes. Place the reserved tablespoon of barberries or cranberries in the center of the kuku sabzi before serving.
Additional Cooking Notes 
I recommend using unsweetened dried fruit with kuku sabzi. However, if all you can find is sweetened, go ahead and use it. The additional sweetness here is actually very nice.
You can also add fresh chives, dill, onions, and romaine lettuce to your kuku sabzi.
Kuku sabzi can be served warm or at room temperature. It will keep in the refrigerator for 2 days.
Kuku sabzi is delicious with chelou (Persian rice), bread, and/or yogurt.
Photos by Shiraz Leyva