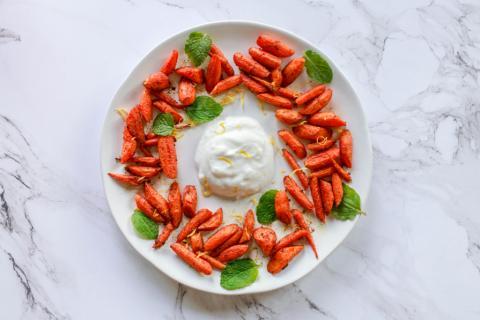 Fall, when we increasingly gather with friends and family, is a time when you can't have too many side dishes. Today I'm sharing a side dish recipe that just might make it to your list of standbys: roasted carrots with vegan coconut cardamom yogurt sauce. It's a little classic, a little spiced, a little different, and vegan, which means there's something for everyone in this simple dish.
Why Eat Carrots in the Fall?
Carrots are traditionally harvested in the fall and spring. Seasonal eating, at its most basic level, is about eating what's growing around you. For thousands of years prior to industrialized agriculture, this was our primary approach to eating; but these days eating seasonally can be challenging. Many of us are used to shopping at supermarkets where seasonal produce is available all year round. As a result, we're largely unaware of what's in season at any given time. And while eating summer berries in the colder months might seem inconsequential, there are real reasons to reach for seasonal produce like carrots instead. Research has found that microbes in our bodies which are vital to digestion shift seasonally. We are simply better able to digest food when we eat it in season. Considering the vast number of us who suffer from digestive disorders and food intolerances, it's safe to say that learning what's in season where you live is worthwhile.  You can do this by shopping at local farmer's markets. Also, many grocery stores list where produce was grown on bin labels. If in doubt, ask. The more you ask, the more you communicate to grocers that buying produce in season is important to you. 

How to Make Roasted Carrots with Coconut Yogurt Sauce
Making roasted carrots with yogurt sauce is a very simple affair: peel, cut, season, roast, mix, and serve pretty much sums it up. The thing to pay attention to here is the amount of spices and salt. People often ask me why salad tastes better in restaurants than when they make it at home. This is because restaurants season their food generously. Unless you're detoxing or have another clear reason, don't be shy with salt and other seasonings. Salt makes food taste better, and as long as you use real salt and don't go way overboard, there's nothing to worry about, and lots of flavor to gain.
In this recipe, the coconut yogurt with cardamom essential oil adds something different and unexpected. If you don't have cardamom essential oil you can use the dry spice, but the flavor will be different and much subtler. I usually take the yogurt out while the carrots are cooking so it's not too cold when I serve it. This is especially important if you have the tendency to get cold, like me (hello all you vata dosha people out there!). If you don't have coconut yogurt and aren't vegan you can also use cows' milk yogurt. Or, you can certainly forego yogurt altogether. (I buy coconut yogurt in a glass jar. I prefer glass jars to plastic for a number of reasons, but here it's especially great because you can conveniently mix the essential oil right into the yogurt.) Also, if I have mint in my garden, I'll sometimes use it for garnish (as pictured above). However, just be mindful that mint is cooling, so you might want to use it sparingly during the cold months.
Power On Your Plate
Ayurveda, a vast, ancient healing tradition which dates back at least 5,000 years, was created as the result of sages, or rishis, observing the natural world. A rishi is someone who has attained a high level of awareness by successfully moving past ego. Through observation, without microscopes, these rishis discovered the importance of living in harmony with the cycles of nature, and the work of krimi, or what we today call microbes or bacteria. In Ayurveda, the three sub-pillars, or upastambhas, of health are food, sleep, and balanced sexuality. Of these, food is the most important. So, the next time you sit in front of a plate of warm spiced carrots on a fall day, remember there's power on your plate, thank yourself for choosing to accept this gift from our beautiful, beloved earth, and of course, enjoy.
Spiced Roasted Carrots with Coconut Cardamom Yogurt Sauce
(Vegan, Gluten-Free, Whole 30-Friendly)
Serves: 6
Prep Time: 10 minutes
Cook Time: 45 minutes
Total Time: 55 minutes
Ingredients
For the carrots:
12 large carrots, peeled and cut into 1-inch pieces
4 Tablespoons olive oil (or melted ghee or butter)
4 teaspoons ground cumin
1/2 teaspoon powdered ginger
sea salt and freshly ground black pepper, to taste
For the yogurt sauce:
4 ounces coconut yogurt (about 1-1/2 cups) (Use sugar-free for Whole30.)
1 drop food grade cardamom essential oil
For the garnish:
zest and juice of half of a lemon
Directions
Preheat the oven to 350 degrees Fahrenheit.
Toss the carrots with the cumin, olive oil (or melted ghee or butter), and a generous amount of sea salt and freshly ground black pepper. Place the carrots on a sheet pan in a single layer and roast, stirring a few times, until almost tender, for about 45 minutes.
Remove the carrots from the oven and set aside while you make the yogurt sauce: put the coconut yogurt in a nonreactive dish, add one drop of cardamom essential oil and stir.
Squeeze lemon juice over the carrots before plating with the yogurt sauce. Garnish with lemon zest and serve.  
This roasted carrots with coconut cardamom yogurt sauce recipe is part of the series Cooking with Essential Oils. To browse through the recipes, click here.
Photos by Shiraz Leyva