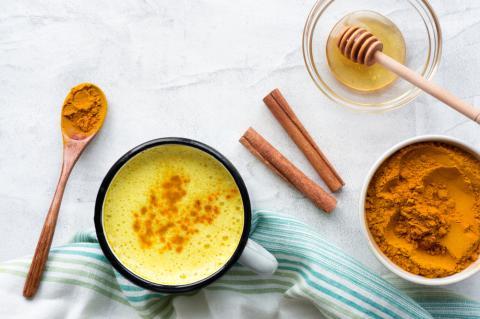 Winter is an optimal time for fostering reflection and contemplation. Seeking quiet time for yourself is not self-indulgent.  We know it's important to live in tune with nature's rhythms, and we can support our bodies in the cold wintry months with warming, sweet, and spicy beverages. Relaxing with a warm drink, savoring each sip, is a sweet way to stop rushing and tap into a little bit of happiness and wellness.
Create one of these comforting drinks to revitalize your body and nourish your soul.
Golden Spice Milk 
creamy, dreamy & delicious
ginger & turmeric = powerful anti-inflammatory
Ingredients 
2 cups milk (or your favorite non-dairy preference)
1 cinnamon stick
1 teaspoon of turmeric
3 cardamom pods
1 inch of ginger root, grated
pinch of pepper
honey or maple syrup, to taste
Directions 
Pour the milk in a small nonstick pot and add everything except the honey.
Place on medium heat.
Just before the milk reaches the boiling point, turn to low heat. Simmer uncovered for 3-5 minutes.
Strain the mixture and pour into a mug.
Stir in honey or maple syrup to taste. Serve hot.
Ginger Lemon Brew 
simple & soothing
ginger & lemon = perfect antidote for an unhappy stomach
Ingredients 
2 cups water
2 Tablespoons fresh grated ginger
juice from one lemon
honey, to taste
Directions
Heat the water and ginger root until it reaches a boil.
Simmer for at least 5 minutes. Strain.
Add lemon juice and honey. Serve hot.
Mint Spearmint Tea
refreshing & stimulating
add honey for healthy digestion
Ingredients
2 cups water
1 small bunch of fresh spearmint and peppermint leaves
honey, to taste
Directions
Pour boiling water over the leaves.
Steep for 5 minutes.
Add honey just before serving.
Full of Spice Cider
comforting & warming
allspice berries taste like cinnamon & nutmeg with a hint of juniper & peppercorn
Ingredients
1 quart fresh, high-quality apple cider (not apple juice)
6 cardamom pods
1 teaspoon whole cloves
2 teaspoons allspice berries
2 cinnamon sticks
1/2-inch fresh ginger 
Directions
Place the cardamom, cloves, and allspice in a tea ball.
Combine all ingredients in a pot and slowly bring to a boil.
Cover and simmer for 10 minutes. Remove from heat.  Steep for 10 minutes, or longer for stronger flavor.
Remove tea ball and reserve the cinnamon sticks for garnish.
Reheat spiced cider over low heat. Serve hot.