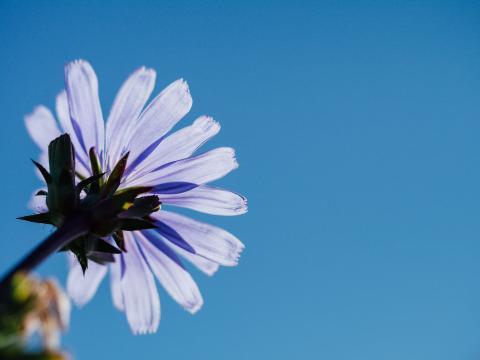 I am an impatient person. Almost nothing happens fast enough for me. I want things yesterday. Wait for something? No thanks. This is an attitude supported by our society, in my opinion. There's an underlying belief that if something isn't happening on our timeline we need to move on. I notice in myself and others that we don't want to wait – we want things to happen instantaneously.
I reflected on this during my meditation the other day and what bubbled up is, "What's the rush?" What's the rush, indeed. Why am I in such a hurry to get where I'm going? Can I let things unfold naturally, and slowly?
My spiritual teacher says, "Suppose, immediately after planting some saplings and seeds, someone digs them up to find out if they have taken root or sprouted. That would not be considered wise." He also says, "Each action has an equal and opposite reaction, provided the three relative factors of time, space, and person remain unchanged. Whatever you do is an actional expression determined by your past actions. Your actions will certainly have reactions, but you may have to wait some time for their expression."
Again with the waiting. We all know patience is a virtue and things get better with time, like wine and cheese, but I don't consume either of those things so I don't connect with that comparison. What helps me is to think of my mother. My mom graduated from medical school when she was 64. That in itself is inspiring, but particularly what I think of is how she opened her own medical practice. In the first year, she barely made anything; she hardly saw any patients. It would have been very easy for her to say, "Oh well, not happening fast enough, time to move on to the next thing." Instead, she stuck with it. It's been a couple of years, but she reached a point where she needs to hire someone a few hours a week to help out around her office. It didn't happen quickly, but she's finally seeing results.
That also reminds me of a podcast I listened to the other day on fear and creativity by Elizabeth Gilbert. One of her guests was comedian Michael Ian Black who said persistence is the most underrated quality a creative can have, and talent is the most overrated. That concept stuck with me like a burr because it says to me if I persist, I can be successful. If I keep putting in the work, eventually it will bear fruit.
The timeline is not up to me, but the work sure is.
I'm not saying stick with something if it makes a person miserable. But maybe we're giving up on things too soon? Maybe if we had a little patience we'd see the results we're after? There are no hard and fast rules on this unfortunately, but for me, erring on the patient side often seems more beneficial than the action side. Maybe that's true for others as well.
I dream of a world where we are a little more patient to see results. A world where we're a little more patient with ourselves and each other, understanding not everything can be hurried. A world where we ask ourselves, "What's the rush?" and realize often there isn't one.
Another world is not only possible, it's probable.
This article originally appeared on www.anotherworldisprobable.com