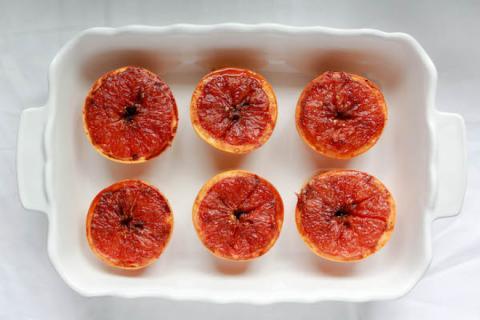 Winter, a time when we're compelled to spend increased time indoors, can leave us feeling a little stagnant. If you'd like a quick pick-me-up, or just something healthy and delicious to eat, check out the grapefruit that's in season now. The fragrance of grapefruit is energizing, and the fruit is rich in good-for-you antioxidant vitamin C. In today's recipe, I'm going to show you how to quickly broil grapefruit with spices, which will transform it into a warm winter breakfast, dessert, or anytime treat.
How To Broil Grapefruit
Broiled grapefruit with spices is kind of like a healthy Campari and orange juice—or at least that's what I like to tell myself these days. But even if the flavor doesn't remind you of your favorite aperitif, there are lots of other things to love about broiled grapefruit. I mean, what's not to like? It's warm, bubbly, and delicious—not to mention, so easy to make, taking only about 15 minutes.
So, first things first: the membrane. Some people find grapefruit excessively sour, but this is usually because they've only eaten it with the membrane. The membrane is quite sour, but if you remove it, you'll find you're left with fruit that's perfectly, refreshingly sour. Separating the flesh from the membrane—as instructed in the recipe below—will let you easily access that yummy grapefruit flesh.
Broiling can perplex the home cook because ovens vary greatly in accuracy. In this recipe I recommend using a parchment lined baking sheet—not foil—and keeping the grapefruit about six inches from the heat source. I avoid using foil in cooking as much as possible due to concerns about the possibility of aluminum leaching into food, but parchment requires a bit of care. Be sure to lay the parchment flat so it doesn't catch on fire, and yes, I'm speaking from (repeated) experience here. Broiling for 3 minutes should do it; you'll know the grapefruit is ready when it's caramelized and bubbly.  
For people who like fresh fruit for breakfast, warm grapefruit is a great alternative during the cold months, when raw fruit will only further chill the body. Or, have broiled grapefruit before or after a meal. Its bitter, sour flavor is thought to aid in digestion and encourage peristalsis. And, although growers have cultivated grapefruit to be sweeter over the years, what's even sweeter is to present friends with warm spiced broiled grapefruit halves the morning after the party ran a little too late into the evening. This act will be so appreciated by a crowd that could use both gentle rousing and a big, festive dose of vitamin C. Again, I speak from experience here.
The Nature of Winter
Every season has distinct characteristics. Winter, when animals hibernate and northern lands are covered in blankets of snow, is a time of deep introspection. Now that the buzzing of the holidays is over, it's a great time to focus on health, refine self-care practices, and set the tone for the rest of the year. Food of course plays a huge role in how we feel. Seasonal food helps us develop our connection to the natural world.  Food is an expression of nature's abundance. When you open your oven and set your eyes on that lovely smelling, bubbling pink grapefruit, you'll know exactly what I mean. Let it remind you that with a little tuning in, you can feel amazing in the heart of winter, and all year round.
Spiced Broiled Winter Grapefruit (Gluten-Free, Vegetarian, Vegan)
Serves: 4
Prep Time: 10 minutes
Cook Time: 5 minutes
Total Time: 15 minutes
Ingredients 
4 large grapefruits
4 teaspoons coconut oil, ghee, or butter
4 tablespoons coconut sugar
1/2 teaspoon ground ginger
1/4 teaspoon ground nutmeg
Directions
Preheat a broiler with a rack 6 inches from the heat source.
Cut each grapefruit in half crosswise. (You might also need to cut a little off each end of the grapefruit halves so they broil evenly). Using a small sharp knife, separate the grapefruit flesh from the pith and membrane, first by cutting along the peel, and then along each section, but leave the fruit in its shell (This is so the fruit can be easily removed after broiling.)
Brush the top of each grapefruit half with melted coconut, ghee, or butter (1/2 teaspoon for each half.)
Combine the coconut sugar, ginger, and nutmeg in a small bowl. Top each grapefruit half with the mixture, dividing it between each portion.
Place the seasoned grapefruit under the broiler for 3 minutes, until bubbling and fragrant. Remove the sheet pan from the oven and allow the broiled grapefruit to cool for a few minutes before serving warm.  
Additional Cooking Notes
If you opt to use butter instead of ghee or coconut oil in this recipe, please note that it will cause the grapefruit to brown more quickly, and check your broiled grapefruit at the 2-minute mark. 
Photos by Shiraz Leyva