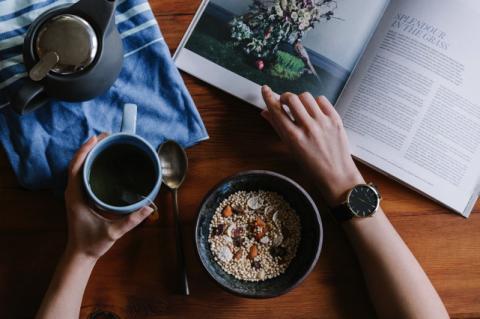 In summer, livin' is easy for so many reasons, one of them most especially being our seasonal food choice options. For breakfast, we can grab some fruit, whip together a smoothie, or grind up a fresh cooling and energizing juice.
In the winter months, however, our breakfast choices become more challenging because we're often waking up in the dark, and feeling the pre-dawn chill in our bones, on top of the seasonal drop in temperatures. At those times it can be really easy to pop in some toast, or reach for something pre-made and super-sweet to soothe our morning mood, but if we take some time to really think about the season and all it offers, we can come up with some really healthy in-season morning yumminess that warms the body and the soul. Battle off winter's chill with these warming, comfort-food inspired, healthy breakfast ideas.
SOUP -  Introducing soup as a breakfast alternative will help you to get a jumpstart to your day with its warming, energizing, yet soothing qualities. Try roasting a butternut squash then blending it with cooked onion, ginger or cooked apples for a savory or sweet breakfast treat. Bone broth is another healthy, nourishing warm treat in the morning, by itself or with a banana for a morning potassium jumpstart.
QUICHE – With or without crust, quiche is a great way to get your nutrients in a portable breakfast dish that will keep you full throughout the morning. Try a gluten-free or whole wheat crust with your quiche filled with grilled onion, spinach, mushrooms, tomatoes, or just about anything you can find in your fridge, bake it up the night before, then slice into pie slices or squares to grab on your way out the door.
FRITTATAS -- Similar to quiche, frittatas are made over low heat with eggs and other items from your fridge. Their eggs offer a strong protein boost that will stay with you, while your add-ins provide additional nutrients and add flavor. Frittatas are best enjoyed warm, with herbs, potatoes and green onion, and cooked green peppers, and are perfect for weekends when you have the time to whip them up and enjoy them hot, right away.
OATS – Filled with fiber and starch, this complex carb breakfast will stay with you longer, to keep you performing at your best all morning long. Add in banana, coconut, walnut and flaxseed to plain oats cooked in almond milk for a naturally sweet power breakfast, or cook with milk, clove and raisins for a warming, spicy flavor.
CASSEROLES – During the cold winter months, nothing beats a breakfast casserole. Popular with holiday brunches, these often include some kind of bread, pancake or biscuit, eggs, meat, veggies or fruit and an item to facilitate a sauce, like crushed berries, or a cheese sauce. Thinking outside the box, you can make a casserole ahead of time and freeze it for a time when you know your week will be busy, and you just don't want to worry about breakfast. You can find an extensive list of casseroles online to get you started, but because many of these savory casseroles are often lacking in healthy options, I recommend changing out biscuits for rice, and substituting the heavier breakfast meat for turkey Canadian bacon, or smoked salmon.
ACORN SQUASH – This very filling and warming vegetable is a great savory first meal of the day served with a little butter, sea salt and nuts. Each daily serving has roughly 6% fiber, and packed vitamin C to boost your immune system and keep you performing at your best by helping to fight off those winter colds and flus going around.
Although the weather turns colder, darker and less energizing during the winter months, that doesn't mean we get to slow down our schedules. Instead of dreading your morning routine, liven it up with these cold-weather embracing food options to help you look forward to the start of your day just a little more.