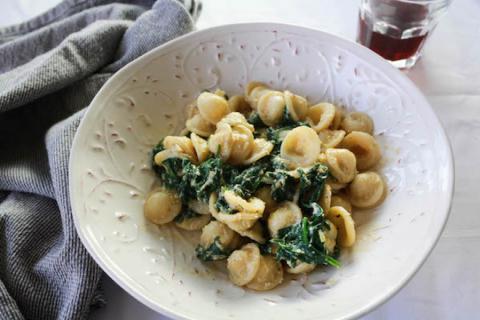 Do you ever crave a nice bowl of pasta when it's cold out?  What about a bowl of pasta with creamy (vegan) sauce? If yes, you've come to the right place. In today's recipe I'm going to teach you how to whip up a comforting bowl of orecchiette with spinach and a nutritious, flavorful, cashew based sauce. Because food should, of course, taste great, but that isn't enough. It should make you feel great too.
Cream: A Thick Plot
Regardless of the focus of our diets, most of us have an affinity for cream, and it's as much about texture as it is about flavor. Considering this age-old affection, it's unfortunate that many developments have occurred in the dairy industry over the years which are not to love. Whether you're concerned about animal welfare, the environment, or your health, there are many reasons to forego industrial dairy products. So now that we find ourselves in this predicament, the question is: where are we going to get that creamy texture that we love?
CASHEWS + SQUASH + PASTA = YUM
Although the flavor of dairy is hard to beat, there are a number of foods that produce a creamy mouthfeel. When it comes to pasta sauce, cashews blended with a little squash offers a nice alternative to dairy. The high fat content of nuts, the same thing that makes them so good in vegan ice cream and cheese, is what gives them credence in this pasta sauce.
How To Make Creamy Cashew Pasta Sauce
In this recipe, cashews and squash create the body of the pasta sauce, while nutmeg, sage, and garlic add flavor. When prepping the squash for roasting, grease it generously to avoid it drying out during cooking. Also, cook the squash to the point where you can easily pierce it with a knife; this will ensure that it blends properly. (The precision of oven thermostats seems to vary widely, so it's important to use a knife to check this aspect.) Also, spices are key here: when you add the nutmeg and sage to the spinach, allow enough time for them to release their fragrance.
Dairy: The Good & The Bad
All food has energy. Dairy foods have a grounding quality. Outside of the world of big agriculture, real, whole, raw dairy products remain highly nutritious foods, which is the reason they're recommended in Ayurveda and therapeutic diets like GAPS.
However, most of us don't have access to high quality dairy. What's available on store shelves is nutritionally incomparable to the dairy foods recommended in the nourishing diets I mentioned. Disruptive to our endocrine and reproductive systems, commercial dairy has an energy that we're better off without.
Nuts and squash, like dairy, are grounding. When blended and mixed with herbs and garlic-y spinach, they not only work well on pasta in place of cream, but they create a whole new way of eating that's nutritious, tasty, and easy on the body, as well as the conscience.
Orecchiette with Creamy Cashew Pasta Sauce (Vegan, Gluten-Free Option) 
Serves: 4-6
Prep Time: 5 minutes
Cook Time: 1 hour, 20 minutes (largely unattended)
Total Time:1 hour 25 minutes
INGREDIENTS
1 acorn squash
pink Himalayan or sea salt, to taste
freshly ground black pepper, to taste
2 Tablespoons olive oil or ghee
4 large garlic cloves, chopped
1-1/2 pounds spinach leaves
3/4 teaspoon nutmeg
1/2 teaspoon sage
1/2 cup raw cashews
1 cup filtered water
12 ounces orecchiette pasta
DIRECTIONS
Preheat the oven to 350 degrees Fahrenheit.
Roast the squash: Line a baking sheet with parchment paper. Using a large knife, cut the acorn squash in half lengthwise (not through the stem) and scoop out the seeds and stringy bits. Grease each portion with olive oil or ghee and sprinkle generously with salt and pepper. Place the squash cut-side up on the baking sheet and bake for 45 – 60 minutes, until soft and tender (you should easily be able to cut all the way through with a knife). Remove the squash from the oven and allow to cool.
Put the pasta water on to boil.
Heat 1 tablespoon of olive oil or ghee in a large pot until hot. Add the garlic and cook for around 1 minute, stirring, until the garlic releases fragrance.
Add the spinach, salt, pepper, nutmeg, and sage to the pot, and cook, stirring, until the spinach is just wilted. Set aside.
After the squash has cooled, scoop out 1/2 cup of the flesh and set aside.
Blend the cashews in a blender or food processor until mealy in texture. Add the reserved squash, water, a generous pinch of sea salt and black pepper, and blend.
Make the pasta, as directed on the package.
Place the drained pasta in the pan with the spinach, add a little sauce, and mix. Taste and adjust the seasonings and serve immediately.
ADDITIONAL COOKING NOTES
If you're up for it, reserve the squash seeds for roasting.
Give the squash plenty of love with oil before roasting. Squash has the tendency to dry out.
I used traditional wheat pasta (without eggs) in this recipe. I have yet to find a gluten-free alternative that I like, but of course, use any pasta you like. I've heard good things about chickpea pasta but have yet to try it.
If you'd like extra texture, try garnishing with some chopped walnuts.
For people who eat dairy, a bit of grated Parmigiano-Reggiano is delicious with this cashew pasta sauce.
Photos by Shiraz Leyva