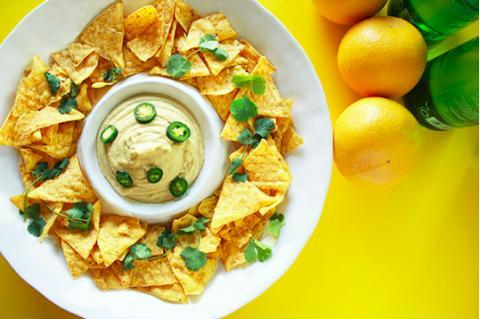 If you want to make a crowd happy with food, then start with this vegan queso recipe. Its creamy deliciousness will please vegans, vegetarians, and omnivores alike. While there are many vegan foods that don't stand up to their non-vegan counterparts in terms of flavor, I can tell you with confidence that this one is better than the original. So, on to all the reasons to love this vegan cheese recipe, how to make it, and some other important things you should know about ingredients.
Cheese Sauce Gets Real
If you've grown up in the U.S., nachos, or salted corn chips piled with a gooey, yellow, vaguely cheese-like substance, are probably familiar. If you're anything like me, you might find yourself pondering: What exactly was that stuff I was eating and what did it do to me?  I'd given up on nachos long before I saw a vegan version at a restaurant in Los Angeles. For nostalgia's sake, I ended up giving them a go. Much to my surprise, that first taste was kind of a revelation. They were so good, and they got double points for being an improvement on a toxic food.
This Vegan Queso Recipe Does More Than Taste Good 
Cashews, when soaked and blended with spices and nutritional yeast, create a cheesy, nutritious treat. Cashews are nutrient rich. They contain significant amounts of iron, copper, manganese, magnesium, phosphorous, and vitamin k. Most of the fat in them is good-for-you oleic acid, an omega-9 fatty acid that's also present in olive oil. Nutritional yeast is what gives cashew cheese its savory, nutty, cheesy flavor. Also known as nooch in health food circles, this golden-colored, flaky or powdered condiment is made from sugarcane and beet molasses. It's particularly rich in b vitamins, making it great for vegans who often lack these essential nutrients.
A Note on Corn Chips and GM Foods
If you're planning on eating your queso with corn chips (of course you are), then please choose organic chips. Corn is one of ten genetically-modified crops available today. The effect of GM foods on human health has not been thoroughly researched to determine their safety. Vincanne Adams, PhD, professor and vice chair of medical anthropology at the University of California, San Francisco, and her colleague Dr. Michelle Perro recently discussed GM foods and their connection to chronic illnesses like autism and dysbiosis. One class of GM foods, Roundup Ready (RR) crops, was designed to withstand glyphosate, the active ingredient in the pesticide Roundup. Glyphosate kills all non-RR plants by disrupting shikimate pathways. It was previously believed that glyphosate wouldn't affect humans because we lack the same cellular pathways. However, our bodies are teeming with microbes that do have shikimate pathways. Depending on who you ask, the human body is either mostly, or half, microbial. Either way, microbes are absolutely vital to our health. Microbial imbalances have been linked to cancer, thyroid disorders, multiple sclerosis, type 1 diabetes, and gastrointestinal disorders like Crohn's Disease and irritable bowel syndrome. Adams notes, "We've not been designed to eat the food we're eating…we've turned over responsibility of determining the quality of our food to large corporations who have a vested interest in maintaining patent control over it." The use of Roundup has increased 240 fold in the last decade alone. Eighty-five percent of products in the average supermarket contain a GM ingredient.
Each day we make choices about what we put into our bodies in order to sustain and satisfy ourselves. The seemingly simple process of enjoying a meal is complicated by the amount of time we have to devote to preparing our food. Food manufacturers are of course well aware of this.  We're constantly bombarded by promises of convenience and time saving if we accept their offerings. Unfortunately, much of what they offer isn't really food. We accept these products at the expense of our health. The so-called Western diet, a diet high in meat and processed foods, has been implicated as a major contributor to many of our modern disease epidemics. In order to eliminate harmful food products from your diet, learning how to prepare simple, healthy food is key.
So why not grab a big, lovely looking plate, put this vegan queso recipe to good use, and invite your friends?  Queso nachos are easily made festive through additions like guacamole, black beans, pico de gallo, and tofu sour cream. These extras will make your offering even more nutritious. You'll leave everyone happy, not to mention a little healthier, all in one swoop. And when all is said and done, isn't that what food should be about?
Raw Spicy Vegan Queso
Note:  Most nuts and seeds are more bioavailable and easier to digest if they're presoaked. In this recipe, presoaking is imperative to achieve a creamy consistency.
Ingredients
1-1/2 cups raw unsalted cashews, soaked for 6 hours in warm water and 1-1/2 teaspoons sea salt
1 small jalapeño, finely chopped
1/2 cup organic nutritional yeast
2 teaspoons miso 
1/2 cup filtered water
1/2 teaspoon ground cumin
1/2 teaspoon garlic powder 
1/2 teaspoon freshly ground white pepper
1/2 teaspoon sea salt
chili powder (for garnish)
Directions
1. Drain and rinse the cashews. Place them in a blender or food processor along with the nutritional yeast, miso, water, spices, and salt. Pulse, adding extra filtered water in small increments and scraping down the bowl as necessary, until you reach a creamy, pourable texture. Taste and adjust seasoning.
2. Plate, dust with chili powder, and serve immediately or store in the refrigerator for up to four days.
Photos by Shiraz Leyva