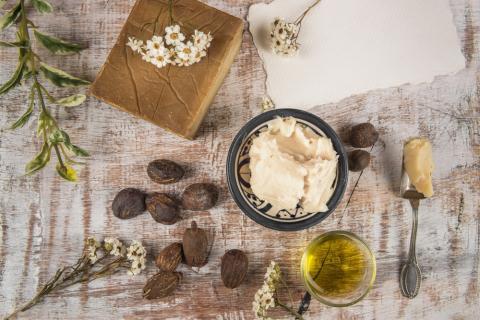 Winter is almost always hard on the skin, especially if you live in a cold, dry, and sunny climate. Exposure to wind and sun burn can make your lips painful and peeling unless you take steps to protect them. This winter take your lip protection into your own hands and make your lip balm at home, especially if you are interested in avoiding the chemicals involved in making SPF. Here is a recipe that you can make at home with a simple glass dish, a double boiler, or even a microwave. It uses herbal infused oil, menthol for soothing and healing lips, and zinc oxide for sun protection.
Homemade Lip Balm Recipe
Ingredients
25% liquid carrier oil (such as olive oil, castor oil, almond oil, etc.)
25% solid oil (such as coconut oil, shea butter, cocoa butter, etc.)
15% organic beeswax
15% menthol crystals
20% zinc oxide
25-50 drops essential oils (such as camphor, peppermint, cinnamon, or lavender)
You can use old lip balm holders and pots as your receptacles for your homemade lip balm or you can buy fresh containers from most herbal suppliers. Either way, start by filling all your receptacles with water, then pouring all the water into a volume measuring cup. This will give you the final goal volume of your recipe and you can calculate your exact amounts based on the ratios above. For instance, I was looking for about 1 cup final volume of lip balm, so my recipe ended up looking like this:
4 Tablespoons calendula infused castor oil
4 Tablespoons coconut oil
2 Tablespoons + 1 teaspoon beeswax
2 Tablespoons + 1 teaspoon menthol crystals
3 Tablespoons zinc oxide
25 drops camphor oil
I had my castor oil previously infused from the summertime with calendula petals from the garden. Calendula resin is great for the skin and so makes a fantastic addition to this recipe but is far from a requirement for making a great lip balm. You could also infuse your liquid oil with rosemary or lavender.
I chose castor oil because it has a thick, shiny quality that makes the lip balm stay well on the lips. It is also a great oil to choose if you are looking to make your lips a little shiny.
I found menthol crystals online for an affordable price. A little goes a long way with menthol so be sure to be careful when measuring out your quantity.
Any solution that contains about 20% zinc oxide is sufficient for protecting your lips from the sun's rays and is equivalent to about SPF 40, so the amount of zinc can be lowered if you are seeking a lip balm that is more translucent. I additionally chose camphor oil because of its soothing skin properties. Be aware of the power of the oil you choose and adjust your recipe accordingly. Camphor is a very powerful oil and so I used a small amount in my lip balm.
Directions
Place all the oils into a heat-proof glass, preferably with a handle and lip for pouring so that you can pour the liquid balm directly into the receptacles.
Heat the oils in a double boiler or slowly, 30 seconds at a time, in the microwave until the solid oils are liquid.
Add your beeswax pellets and continue heating with your preferred method until the beeswax is also melted, stirring occasionally to help with the process.
Once the beeswax is melted, your solution should be warm enough to melt the menthol crystals without additional heating. You do not want the liquid to be too hot and steam out the power of the menthol, but you want it warm enough to sufficiently melt and incorporate the crystals into the solution.
Once the crystals are liquefied and stirred into the mixture, add the essential oils.
You are now ready to pour the solution into your receptacles, be they pots or tubes. Once the tubes are full, leave them to sit until they reach room temperature, at which point you can cap them and get them ready for your next outdoor adventure!
There are many lip balms to choose from on the market, but it is so much more satisfying to be able to make your own at home. Once you have the basic ingredients for the lip balm, you will be able to make enough to last you a lifetime! You are also in control of the ingredients you use and can dramatically cut the number of manufactured chemicals in your life. Making your own lip balm is also a great way to upcycle your lip balm tubes and make a fantastic gift for any occasion. This recipe includes everything you need to protect your lips from winter sun, cold, and wind. Have fun and stay creative!