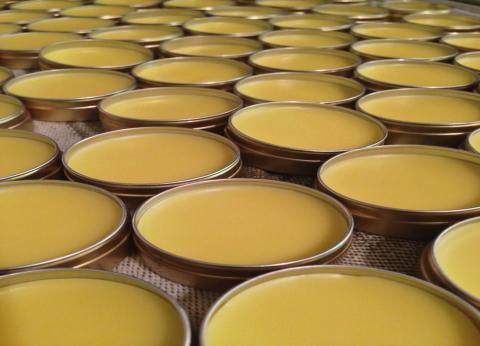 Chapped, dry lips? I get it. Winter has a knack for drying skin out, especially lips. Lips are ultra sensitive to everything, so it makes sense that they get hit the hardest by cold, dry weather. That said, your lips can still get dry or chapped in the warmer months too! To keep them in the best condition, I recommend making a lip scrub and lip balm for them. Making your own won't only be rewarding and fun, but cheaper, too. (Not to mention you'll know what's in them.)  Most of the things you'll need to make each one can be bought in any grocery or health food store. So, try making these DIY recipes for healthier, softer lips!
Lip Scrub
Lip scrubs are great because they gently exfoliate all the dead skin cells away without hurting your lips. Before I used lip scrubs, I had a bad habit of biting my lips. This would dry out my lips and cause me to peel away dead skin using my teeth (not exactly gentle). Lip scrubs do the job for you, and nourish your lips while they're at it. Try this super simple recipe next time you're tempted to bite your lip.
Ingredients:
1 tablespoon coconut oil (can be substituted with olive oil)
1 tablespoon honey
2 tablespoons sugar
½ tablespoon lukewarm water
Directions:
Mix coconut (or olive) oil and honey together in a bowl. Then, mix in sugar and water. Only stop when both have combined well. The consistency should feel similar to a body scrub, only a little more liquid-based.
Rub the scrub on your lips in a circular motion for two minutes, and then rinse with lukewarm water. Done! You've just exfoliated your lips.
Lip Balm
Lip balm is so soothing and healing during the winter, but it's also great during the summer too! Both seasons can dry out your lips, so it's important to give them a little extra care. This super simple DIY recipe will be sure to help. I highly recommend using this lip balm after you finish exfoliating with the lip scrub!
Ingredients:
1 tablespoon coconut oil (can be substituted with sunflower oil)
1 tablespoon beeswax
1 teaspoon olive oil
Directions:
Heat all the ingredients in a double boiler on low heat until they're thoroughly melted.
Pour the ingredients into a small glass storage container and let cool before even attempting to use it (it might burn you otherwise!).
Optional: For a slightly pink lip balm, sprinkle in a little beetroot powder before the lip balm cools! Also, to create a pleasant taste and smell, add in a few drops of vanilla or peppermint essential oil. Totally up to you, but my favorite is vanilla (just saying). Enjoy!