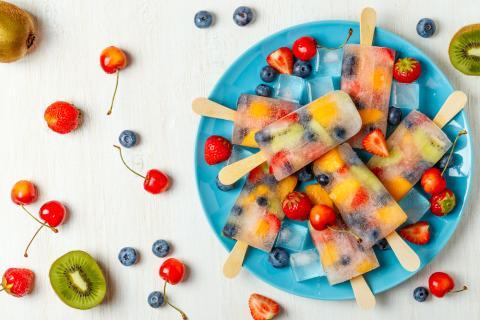 Too hot for anything? How about making some fruity and delicious popsicles that beat the heat and raise the family's health and fun quotient?
With summer here and the kids at home, popsicle expenditure can go through the roof! We are kidding about that, but making popsicles at home is, in fact, a healthier and cheaper option than the store-bought ones. So here are five easy-to-make, healthy popsicle recipes to enjoy all through summer!
Tropical Fruity Ice
What says summer in the tropics better than mangoes, papayas, and bananas?
You'll need 2 ripe mangoes (or 1 ripe papaya) and 3-4 bananas. Keep vanilla flavoring, caster sugar, and some chocolate chips handy as well.
Peel and discard the mangoes or papaya (or both if you like) and discard the mango pit and papaya seeds. Puree this to a creamy, orangey goodness. You may want to add a little sugar at this point, if the mangoes aren't too sweet.
Pour into popsicle molds, filling three-quarters and not more. Pop the molds in the freezer for 30 minutes to an hour, or till partially frozen.
Blend the banana, thinned down with a little milk (of your choice) to a smooth puree. Add in the vanilla flavoring and chocolate chips. Give it a stir with a spoon.
Take out the molds from the freezer and just poke the surface with a fork to disturb the top a little. This will let the new layer soak into the first layer for a better hold.
Carefully spoon in the banana and chocolate goodness till the remaining quarter is full.
Pop the molds back into the freezer for 10-12 hours or until completely frozen, and serve.
(If you want another version for a summer party for adults, you can choose to whip the mangoes or the papaya with Irish whiskey- and cream-based liqueur for an icy punch.)
Pistachio "Kulfi" Pops
For the days you really want to cook your ice cream and have it too, try this Indian coolant!
You'll need a can of sweetened condensed milk, 1-2 cups milk, 1 cup cream, a handful of unsalted pistachios, pistachio flavoring, and 5-6 vanilla cookies.
Set a pan on low heat and empty out the condensed milk into it. Add 1-2 cups milk, and let the lot come to a boil.
Crush the pistachios into crumbs (but not a powder) and drop them in the pan. Add the pistachio flavoring as well.
Let the concoction reduce about a quarter and turn the heat off.
Let it cool, and then whip it, adding the vanilla cookies to get a slightly crumbly texture.
Add the cream and whip some more till the mixture turns paste-like.
Pour into molds and freeze for 24 hours. Dig in to the coolness.
Don't like pistachios? The good thing is that you could replace them with almond meal or even pine nuts. And if nuts aren't your cup of tea, just use 1 teaspoon cardamom powder.
Summer Berry Swirl
For all the berry pickers and berry lovers out there—this tart popsicle is for you.
You'll need a base fruit like watermelon or cantaloupe, a cup of mixed berries (pitted), and sugar to counter the tartness.
Peel, chop and wash the watermelon, and then deseed it. Or use a cantaloupe if that tastes more of summer to you. Now puree your choice of melon into the smoothest possible consistency you can. Pour this into a covered bowl and pop it in the freezer till it's slushy, but not frozen.
In a pan, drop in the pitted and chopped berries, and add 2-3 tablespoons of sugar with just a little water to keep it from burning. Let the mixture boil into a floppy, gooey consistency. Cool and whip for a smoother feel.
Add the cooled berry puree to the melon slush, and just stir it up with the spoon to spread the berry syrup but not mix it. You want to see blobs and threads here and there.
Spoon the slush into the molds and press to make sure you get all the air bubbles out. Freeze for 24 hours before digging in.
If your kid is a texture tyrant, puree the berries, sugar, and the melon together into a smooth paste and just go with that. They are getting in the fruits even then.
Pink Lemonade Pops
This one is as easy as making pink lemonade and freezing it!
You'll need freshly squeezed lime juice, cranberry juice, water, sugar, and a few mint and basil leaves.
Make your lemonade according to taste: mix the water and the cranberry juice in the right shade of pink you want. Add lemon and sugar as per taste but go a little easy on the sweet since you've already put some juice in.
Meanwhile, wash and finely chop 5-6 basil and mint leaves and add them to your lemonade.
Give it all a good stir to spread the leaves evenly, and quickly pour into the molds. Word of caution: all the leaves might sink to the bottom of the popsicle, but they do add color and flavor. You can snip off the top for any fussy eaters. 
Freeze for 24 hours before enjoying that tart and fresh goodness.
Beachy Reminder Pops
Missing the beach this summer? Well here's a fruity popsicle to drive away any beachy blues!
You'll need sweetened coconut milk, pineapple chunks, pineapple juice, sugar, cream, and lemon juice.
Puree the coconut milk (or cream) with the pineapple chunks till smooth and creamy. If the mixture seems to thin, add a little cream. If it's too thick, add some pineapple juice.
Check for sweetness and add sugar to taste. Squeeze in some lemon juice if it tastes too sweet or if you like your popsicles tart.
Pour into molds and keep for 24 hours before all the beach memories come rushing back.
The adult version of this popsicle could use some coconut rum or spiced rum in the blend as well.
So fill in that backyard pool, heat up that barbeque and when all is eaten and done, whip out these summery popsicles for both health and fun factor! Write to us in the comments section with any recipes or feedback of yours, and have a great summer.