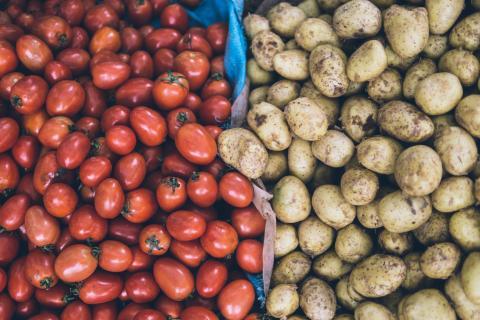 In 2015, Amy's Kitchen, one of the biggest soup and frozen food companies in America, launched its first vegetarian fast food chain in Sonoma County, California, which is also where its headquarters and food packaging plant are located. Two years later, it is still going strong and according to Business Insider, six new locations are in development in Northern California. One new location will be in a currently defunct Denny's in Corte Madera and is scheduled to open in 2018.
Andy and Rachel Berliner launched Amy's Kitchen in 1987 with the development of a flagship frozen veggie potpie. The family-owned company now runs several food processing plants, employs thousands, and makes hundreds of millions of dollars annually.
Amy's decided to branch into the fast-paced side of the food industry a few years before their launch, partially in response to hearing countless customers and business partners bring up the idea.
"Over the years, we felt we've been part of changing frozen food. And we had customers and partners saying, 'Hey I wonder if you can do the same thing for fast food.'" Operations Director Paul Schiefer told Tech Insider in 2016.
Amy's Drive Thru focuses on selling locally sourced, vegetarian, about 95-percent-organic, pesticide- and GMO-free food. It offers dairy-free, gluten-free, and vegan choices. Much like all of Amy's Kitchen products, the foods served at the drive thru are carefully selected and vetted. The company's agriculture field representatives monitor the growing, soil management, and cleaning of food products on the way to Amy's plant or kitchen, Civil Eats reports. The drive thru menu contains burgers, mac and cheese, pizza, burritos, shakes, fries, chili, salads, and more. It often relies on employees' family recipes for meal ideas and uses the staff as taste-testers.
"There's something about a culture's home-cooked food that really speaks to everyone," Amy's Food Researcher Fred Scarpulla Jr. tells Fast Company.  They went through thousands of pounds of potatoes finding the right local variety for their French fries and did over 3,000 taste tests for the veggie patty of their most popular item: the Amy's Special Burger. This top seller costs just under $5. Amy's food can run higher than traditional fast food chains, but Civil Eats shares full meals stay under $9 and are delivered within a few minutes in the fast food tradition. Amy's pays its employees well for this industry, with a starting wage of around $12 per hour, vacation days, and health care through a company-owned medical center. Because their food is more complicated to prepare, they employ about 90 people versus a standard drive thru's average of 15.
Amy's Drive Thru at 58 Golf Course Drive West in Rohnert Park, California, is a barn-shaped building, complete with a silo, and the restaurant features whimsical stripe and dot patterns on much of the packaging, designed by a British firm called "I Love Dust." The Special Burger, a rendition" of a veggie burger, features a surfer illustration on the burger box, which is of owner Andy Berliner. Lead Designer David Grocott said the design color scheme, often in turquoise and yellow, is inspired by 1950s California-Americana.
The interior of Amy's is described as attractive and not atypical of these types of chains, consisting primarily of a counter and tables. Outdoor seating is also available. The drive thru is powered by solar panels, the packaging is compostable, the straws are plastic, and condiments offered include agave and organic brown mustard. Including savory favorites like mac and cheese and pizza makes Amy's appealing to those seeking fast food indulgence, and Schiefer says many of their customers are not vegetarians. Owners Andy and Rachel point out that they don't directly advertise their organic fast food as healthy because it contains salt and oil, but refer to it instead as good tasting, clean, and "better for you."
Sales of organic food rose to a record $43 billion in 2016. As more consumers in the U.S. seek easy, organic meals, Amy's Kitchen and Drive Thru may very well continue to succeed, innovate and grow.