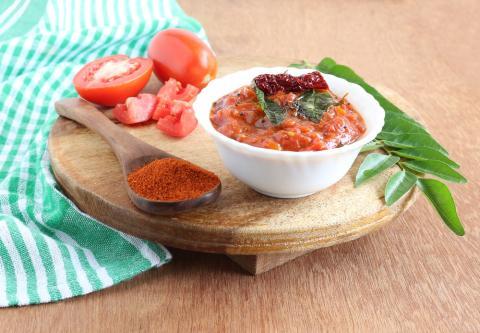 The ubiquitous and humble chutney is often a staple on Indian tables—and it does more than just add heat or spice to the meal. More often than not, chutneys are digestive aids and tend to fire up the metabolism.
What is chutney to the British and chatni to the Indians often becomes relish to the Americans. A rose by another name may not smell as sweet as Shakespeare thought, but call it what you want—fresh chutney made from garden-fresh ingredients and served immediately can really add to the taste of any meal. Chutneys can be thin, thick, or chunky, and sweet, sour, or hot. They are usually made with the season's fresh produce and make great accompaniments to almost all kind of meals—though some pairings are as classic as, say, a BLT. So here go three of my favorite chutneys, and how to have them…
Coconut Chutney Recipe
If you have ever eaten at a traditional South Indian joint that serves dosa (rice pancake), idli (rice cakes), or appam (a combination of the two), then you might have had a whitish chutney with it—and that's the coconut chutney I am talking about. And coconuts are very healthy to eat, not just as oil!
You need:
1 coconut
½ cup roasted Bengal gram (chana or chana dal)
1-inch piece ginger (another super healthy ingredient)
2-3 green chilies
Salt to taste
2 tablespoons mustard oil
½ teaspoon mustard seeds
½ teaspoon fenugreek seeds
You need to de-husk and smash the coconut open to get to the sweet flesh. Pry the flesh out and keep aside. Be careful, the edges of a coconut shell can be jagged!
Zap the coconut flesh, Bengal gram, ginger, chilies and salt in a mixer till it forms a smooth paste. You can add a little water to thin it down if needed. If you want the chutney mildly hot, stick to one chilly or deseed the chilies beforehand to reduce the heat.
Transfer the coconut paste into a bowl.
In a pan, heat the mustard oil till it smokes, and then turn the heat down and add the mustard seeds and fenugreek seeds. Let them sputter but not blacken. Pour this tadka over the coconut chutney.
Serve with just about anything—though it makes for a great accompaniment with dosa, idli, and parathas.
Mint Chutney Recipe
A tangy, spicy, and absolutely pleasing combination of mint, onions, green chilies, coriander, and garlic make for an amazing chutney in this one—great to be had with any curry dish. You can also add this chutney to thick yogurt for a mean dip for Friday night snacks.
You'll need:
A bunch of mint leaves (an awesomely healthy herb)
A bunch of coriander leaves
2 medium-sized onions
3-4 green chilies
5-6 garlic cloves or a bunch of garlic leaves (chives)
Salt to taste
Make sure all the leaves are fresh and washed well. Roughly tear them into smaller pieces.
Peel and chop the onions and the garlic cloves and de-stem the chilies.
Add everything into a mixer and pulse at high speed till you get a fragrant green paste.
Transfer into a Mason jar and use as you please. I love to make a mint chutney-and-cheese sandwich—it's delish!
Tomato Chutney Recipe
This is one tangy sweet and sour relish that can add taste to just about anything, anytime, and well, anywhere. You can use it as a dip, or just as an accompaniment.
You'll need:
Chop the tomatoes and the onion and crush the garlic clove.
Heat the oil and add in the tomatoes, onions, and garlic. Cook till everything has softened.
Add the salt, sugar, and lemon juice.
Cook till well mixed and gooey. Serve hot or cold as per your preference.
Chutneys make a wonderful addition to every meal and go a long way in increasing healthy taste—and remember, the fresher the ingredients, the better. Happy eating!