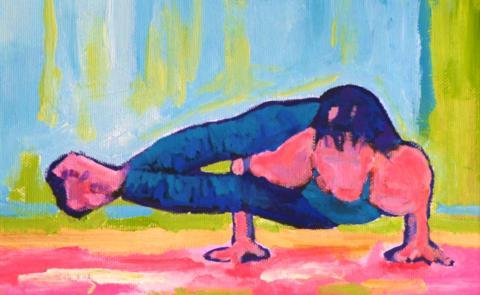 Eight-Angle Pose/Astavakrasana
Benefits:
Strengthens the wrists and arms.
Tones the belly muscles.
Improves balance.
Foundation & General Alignment:
Start in a sitting position, bring one leg up around bent elbow. Slowly lift other foot to meet lifted foot. Bring body up off ground and slowly lean forward.
Elbows are at a 90 degree angle.
Shoulders are engaged to keep body from tipping forward.
Shoulders are not curved forward, back is flat.
Legs are engaged so that they are straight out.
Feet are flexed and hook onto one another.
Common Problems:
Elbows are too extended.
Back is curved and shoulders are tipping forward.
Legs are not engaged.
Modifications:
Can also been done on forearms.
Blocks can be put under feet.