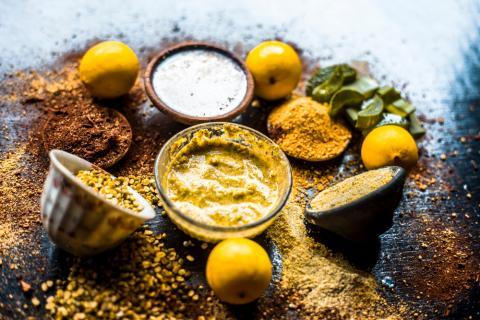 So let's begin with what ubtans are.  Long before the soap factories were born, ubtans were used to cleanse, exfoliate, and moisturize the skin, as well as give it long-term protection from the elements. To put it simply, ubtans are like an all-in-one product that covers what you use soaps, scrubs, and moisturizers for, along with giving you added sun protection. Sounds absolutely skin-delicious, doesn't it!
How do ubtans work?
Most ubtans, be it in paste or powder form, are made from ground herbs, legumes, and grains. In basic terms, they rid the skin of impurities, balance its pH, and also provide moisture. In Ayurvedic terms, they draw "heat" from the skin, exfoliate and firm it up, and also increase blood flow to the skin by stimulating the lymph nodes.
Here are three ubtan recipes for you to use in summers, based on your dosha.
Ubtan For Kapha: Mung Dal-Orange Peel Ubtan
Those with kapha dosha are regulated by the body energy and can fall prey to weakness of the skin, regulatory, and immune systems. A dry-ish application works well for the kapha dosha, with tiny but vigorous circulatory movements.
Ingredients
3 Tablespoons mung dal, soaked overnight
1 teaspoon fenugreek seeds
1 teaspoon dried orange peel or 1/2 teaspoon Neroli essential oil
1 teaspoon cinnamon powder
Directions
Drain the mung dal and add all the ingredients in a food processor.
Pulse until coarsely ground.
Rub this onto the skin in small circulatory movements and let it dry for 10 minutes or so.
Wash off with cool water.
Ubtan For Vata: Almond-Sesame Ubtan
People with vata dosha are controlled by—and often fall prey to—problems related to the blood and circulatory system of the body, including the heart. Ubtan-wise, they should go for a more liquid-like paste with little to no coarseness and use large circulatory motions.
Ingredients
7 raw, blanched almonds
7 tulsi or neem leaves
2 Tablespoons raw sesame oil
1/4 cup fresh cream
Directions
Zap all ingredients into a mixer till you get a fine, non-coarse paste with just a hint of texture.
Now apply all over face, neck, and décolletage in circular motions.
Leave on for 10 minutes or till it's dry and flaking off. Rinse with cool water.
Ubtan For Pitta: Gram Flour-Cucumber Ubtan
People with pitta dosha are ruled by their body's metabolic system and so fall prey to problems related to digestion, nutrition, and temperature. Ubtan-wise, a smooth paste application that does not heat up the skin would work best.
Ingredients
3 Tablespoons gram flour (besan)
3 Tablespoons grated cucumber, with the juice
a pinch of turmeric
1 teaspoon sandalwood powder or 1/2 teaspoon sandalwood essential oil
Directions
Stir together all the ingredients in a bowl and add in some rose water to thin out the paste if needed.
Apply with gentle circulatory movements and keep on for 10-15 minutes.
Gently rinse off with cool water.
Your skin will feel cool and refreshed after the ubtans and once you've showered off, remember to not use any soap or even a moisturizer to let the ubtans work their magic for the next six hours or so. In case you have really dry skin, remember that ubtans often follow abhyangam (oil application). So even if you cannot be very Ayurvedic about it, massage your body with your favorite organic oil and then cleanse with the ubtan for skin that gleams with health and joy. You can use an ubtan all over your body as well; just proportionately increase the ingredient sizes.  Namaste!