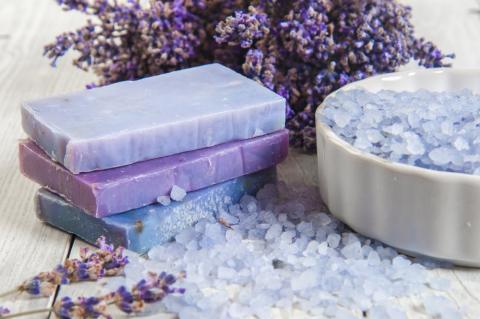 When you're washing up, do you question the ingredients in your body and hand soap? You should. Most of the soaps available at places like mainstream commercial stores are loaded with artificial fragrances that have been known to cause allergies and irritation. Not to mention an ingredient called sodium laurel sulfate is one of the most common toxic ingredients found in soaps (and shower gels!). These ingredients are used to create lather and bubbles but also strip the skin of its natural oils. They're also irritants for people with sensitive skin or eczema.
So, in order to avoid exposing your skin to unnecessary chemicals, why not try making your own soap? It's not as hard as you might think. Here are two DIY recipes for hand soap and body soap you should try at home. Bonus points: They'll save you a few bucks. 
Lemon Lavender Body Soap
What's great about this soap is that it contains absolutely no chemicals whatsoever (and it's vegan). So no need to worry about needing lye here! The soap base is completely made from shea butter, so you're guaranteed a luxurious, moisturizing rinse. It certainly won't dry out your skin, that's for sure. This recipe yields 7 to 8 bars of soap if you use an entire 1 pound bag of shea butter (so if you want less, halve the recipe). 
Ingredients
Zest of 1 lemon 
1-2 Tablespoons fresh lavender 
15-20 drops lavender essential oil 
1 pound bag Shea butter 
Soap mold
Directions
First, rinse out your chosen soap molds to ensure they are free of any residue. There are plenty made of silicone available online or in craft stores. Let them dry before using them. 
Now, melt the shea butter according to the instructions on the package. For stovetop melting, use a double boiler system by filling a large pot with water and putting a smaller pot inside of it. Once the water has boiled, place the Shea butter in the smaller pot and turn the heat to a low simmer. Cover and heat. Stir every few minutes until Shea butter is completely melted.  
While the soap is melting gather the lemon zest, lavender buds, and lavender oil. Once the soap base has melted, let it sit for a couple of minutes.  
Pour out 1 cup of shea butter soap base into a measuring cup.
Add the lemon zest, lavender buds and 15-20 drops of lavender essential oil to the measuring cup. Stir it frequently so ingredients don't settle at the bottom, and then pour it into 3 to 4 soap molds.  Use a spatula to ensure even distribution of lavender and lemon zest. Rinse measuring cup. 
Let the soap molds sit for one hour, and then place them in the freezer for 1 hour. If the soaps still need more time to harden, keep them in the freezer longer. The soaps should pop out of the mold easily with use of a knife to cut around the edges. When you get the soaps out of their molds, feel free to use right away or store it somewhere cool for safe keeping. 
Simple Moisturizing Hand Soap
This super simple hand soap recipe is guaranteed to moisturize your hands, instead of drying them out. The oil and vitamin E are responsible for this, but if you'd really like to, you can skip them. In fact, if you're super tight on budget, you could skip everything but the liquid castile soap and water. Those two ingredients are the base and can be used alone if need be. Not to mention liquid castile soap comes in many different scents regardless (try Dr. Bronner's—there's a wide range of scents from lavender to rose to eucalyptus). Play around with the recipe until you find something that works for you. 
Note: If you decide to use a Mason jar, there are plenty of Mason jar pump lids available online (Etsy is a great place to start). Look for one that's made out of stainless steel to avoid using more plastic than necessary.
Ingredients
1/2 cup liquid castile soap 
1/2 cup distilled water  
1 Tablespoon vitamin E oil  
1 Tablespoon sweet almond oil, olive oil, or jojoba oil  
15 drops tea tree essential oil  
5-10 drops your favorite essential oil  
Directions
In a Mason jar or recycled soap dispenser, add the water first (to prevent bubbles), then the liquid castile soap, followed by the oils.
Shake the ingredients together.
Shake the soap dispenser before using, and then squirt a small amount on your hands as needed, rinsing with water.