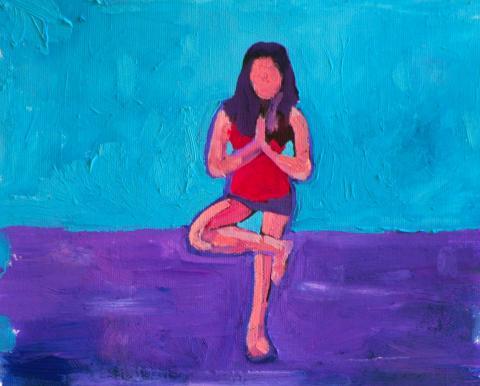 Wellness Wednesday 49: Standing Figure Four
Benefits:
Helps strengthen the leg.
Stretches the thighs and knees.
Improves balance.
Foundation & General Alignment:
Start standing on one leg, other leg bent.
Bent leg comes up like tree pose.
Reach down and pull foot across standing leg. Rest foot/ankle on thigh.
Keep foot flexed, not pointed.
Hands can be on hips  -- wherever is most comfortable.
Pelvis is in a natural position.
Head is facing forward and shoulders are back away from ears.
Common Problems:
Foot is not flexed.
Ankle is resting on knee not thigh.
Shoulders are hunched forward.
Modifications:
Can place hands on walls for balance.
Can do tree pose instead.
This pose can also been done laying flat on back.