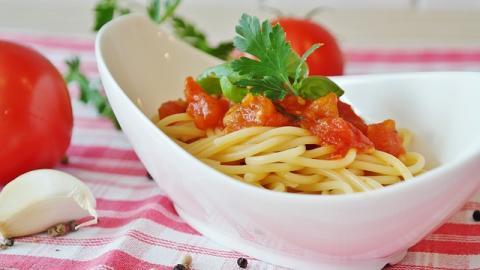 As someone with an Italian heritage, I feel that a richly flavored marinara sauce is a must in my household. Sure, you can buy the stuff that comes in cans and jars, but a delicious, homemade sauce is just as easy to whip up, and much more satisfying.
Late last summer, my husband came home from his community garden plot with dozens of ripe tomatoes. We tried our best to use them while fresh, but it quickly became apparent that there were more tomatoes than we could sensibly consume. Since we didn't have the tools for a serious canning venture, we did the next best thing: made roasted marinara sauce.
I was dubious at first about this sauce-making method, but it has quickly become one of our staple recipes.  This sauce is best made in the thick of summer when tomatoes are ripe and bursting from the vines, but don't let that stop you from recreating this sauce any time of year. The roasting process of each ingredient brings out the fullness of each flavor, plus it will fill your kitchen with delicious smells and warmth.
The best part about this simple marinara sauce is how easily it comes together. A little prep time and an hour in the oven is all you need to cook up a tasty sauce. Enjoy!
Recipe: Simple Roasted Marinara Sauce
Ingredients:
4 lbs fresh tomatoes, core and seed removed and quartered
1 onion, peeled and quartered
1 shallot, peeled and quartered
2 cloves garlic, peeled
1 carrot, peeled and roughly chopped
½  tsp crushed red pepper
½ tsp oregano
Salt to taste
Method:
Preheat oven to 350F degrees. In a large bowl, combine all ingredients, coating vegetables in spices and olive oil. Transfer into roasting pan and roast about 60-75 minutes, checking and stirring occasionally. Once everything is soft and caramelized, remove from oven and transfer to blender or food processor. Depending on personal preference, blend or chop roasted ingredients until a sauce-like consistency is achieved. Sauce is ready to serve or can be cooled and frozen for later use.