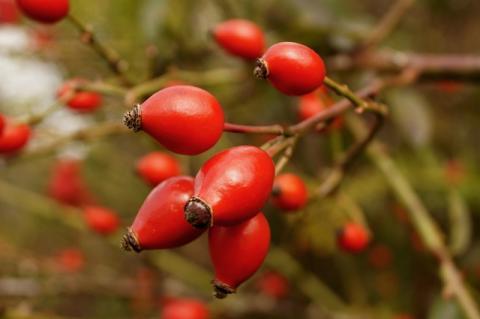 Rosehip oil might sound like something you'd find in your grandmother's cabinet, but it might actually be the secret to youth–or, at least, youthful beauty. Better known as rosehip seed oil, this special oil is a well-known facial ointment for treating everything from acne to eczema, age spots and osteoarthritis. Considered a dry oil, rosehip seed oil is absorbed directly into the skin, rather than leaving a greasy coat on your cheek or forehead, which makes it suitable for both daytime and nighttime use. Need more convincing? Here are five good reasons to start including it in your beauty regimen.
1. Anti-Aging
Rosehip seeds are packed with vitamin C (and might actually be one of the richest sources on the planet) and vitamin A, along with a host of antioxidants. As this website explains, the vitamin A helps to reduce wrinkles and lines by allowing for maximum moisture absorption. 
2. Eliminate Sun Spots
The antioxidants mentioned above are also great at reducing or eliminating sunspots that occur with years of sun damage. 
3. Moisturize Dry Skin and Hair
Thanks to essential fatty acids, rosehip seed oil might rival your grandmother's cold cream–apply at night and your skin will feel smooth and hydrated by morning. For those with dry, brittle, or damaged hair, try brushing a small drop through ends of the hair, avoiding the scalp. 
4. Reduce Discoloration and Scarring
For those suffering from the longstanding effects of acne scars, or conditions like rosacea and eczema, rosehip seed oil can help. The same essential fatty acids that can hydrate the skin can also help reduce skin discoloration. 
5. Help With Osteoarthritis
Rosehip seed oil is an anti-inflammatory, and may in fact help those suffering from osteoarthritis. A study published by Arthritis Research UK found that those taking a rosehip supplement noticed reduced pain and stiffness compared to the placebo group. 
While rosehip seed can be taken as an oral supplement, my favorite way of soaking up the goodness it offers is topically. Rosehips can actually be eaten, but your best bet is to make a tea if you're less interested in applying the oil to your face. If the idea of facial oil doesn't scare you away, try applying two pumps of pure rosehip seed oil directly to a clean, dry face. Or, you can simply add a few drops into your regular nighttime cream for added benefits.