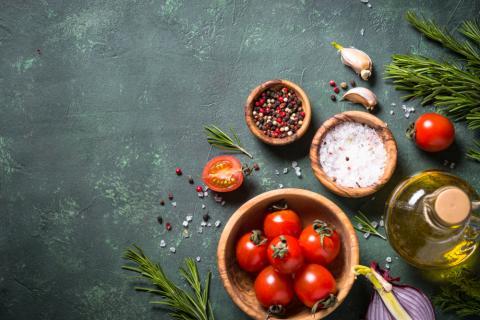 Everyone in my family is fond of heavy white sauces, but not me; I've always been a fan of this thing called flavor. If you think you're more of a white sauce person, think again. This velvety, luscious red sauce will even win over the hearts of Italians who think their nonna's "gravy" is the best hands down.
Over the years, I've perfected my very own marinara because that overly sweet jarred stuff just wasn't cuttin' it anymore. This robust, tomatoey goodness with a bit of a kick is surprisingly full of veggies, and pairs well with just about anything—pasta (duh), zoodles, spaghetti squash, quinoa, you name it. It's that good. In fact, I just ate some leftover sauce on a plain potato. Believe me now?
Hearty, Spicy Marinara Sauce
Ingredients
2 Tablespoons olive oil
1 medium onion, chopped
1 carrot, chopped
1 stalk celery, chopped
4 garlic cloves, minced
1 28-oz. can diced tomatoes
3/4 teaspoon Italian seasoning
1/2-1 teaspoon crushed red pepper flakes
1 teaspoon organic sugar
salt & pepper, to taste
1/2 cup water (plus more, if necessary)
Directions
In a large pan, over medium heat, sauté the onion, carrot, and celery in the olive oil for about 8 minutes, or until the onion begins to brown.
Add garlic. Sauté for another 2 minutes.
Once veggies have sautéed, turn down heat to medium-low. Then, add diced tomatoes, all seasonings, and water.
Stir and cover. Let simmer for about 30 minutes, checking periodically to avoid scorching.
Let sauce cool for about 5 minutes prior to blending.
Last, taste, and adjust seasonings, if need be.