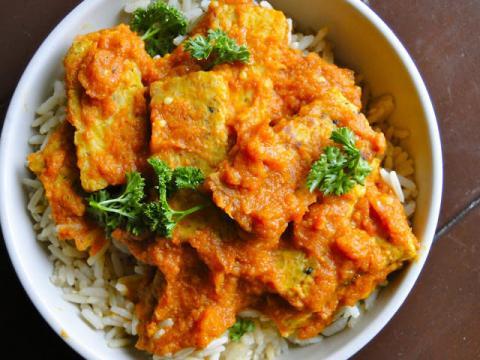 Tempeh is made of soybeans, just like tofu, but what makes tempeh special is the fermentation process that makes this meat alternative easier to digest -- making it a favorite amongst those with sensitive tummies! Whole soybeans are pressed together into cake form, which gives the tempeh a hearty texture perfect for chilis, tacos and pasta sauce.
I like to slice tempeh into strips and fry them off with some coconut oil and pretty much any sauce of choice. Just like tofu, tempeh tends to absorb anything you cook it in,  except I would warn you than tempeh has a more "bean-like" taste (than tofu). Substituting tempeh for chicken or fish is especially great in curries because the strong, pungent flavor of the curry sauce masks the tempeh perfectly. I made this curry sauce differently than usual by blending the ingredients in their raw form first, then reducing the sauce on the stove -- pretty ingenious, eh?
For vegetarians and vegans, tempeh is an amazing source of protein with 19g per 100g! That's just as much as 100g of salmon. If you can't seem to get on with tofu, definitely give tempeh a try. All it takes is the right preparation and you might have a new favorite protein.
Recipe:
Serves 2
1/2 block of tempeh
Olive oil, for frying
For sauce:
1 shallot, chopped
2 cloves garlic
2 medium tomatoes
1 1/2 tsp cumin
1/4 tsp turmeric
1/8 tsp cayenne pepper
1/2 tsp cinnamon
1/4 tsp ground ginger
1/4 tsp curry powder (optional)
1/2 tsp salt
Freshly ground black pepper
For the sauce, combine all listed ingredients (except tempeh and olive oil for frying) in a blender (or use immersion blender) and blend.
Cut tempeh into strips and then in half to form bite-sized pieces. Fry with a little olive oil on medium heat until golden brown. Set aside on a plate.
Drizzle pan with more olive oil.  Pour "raw" sauce into the hot pan, and cook until sauce is reduced and has thickened up. Season as necessary. Add tempeh to sauce and simmer for a few minutes.
Serve curry on top of rice!
Photo Credit: "tempehcurry6" by Jaclyn Enchin is licensed under CC BY 2.0
Sources: 
http://nutritiondata.self.com/facts/legumes-and-legume-products/4381/2