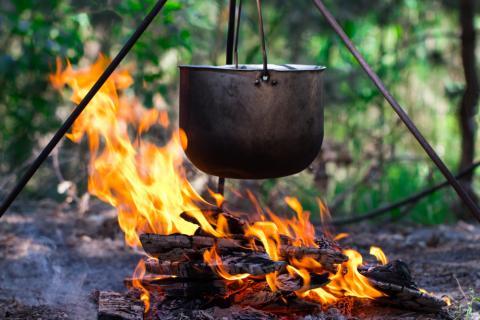 Something I like to do in the fall is make a big batch of campfire chili over an open fire. This recipe is delicious whether you cook it on a stovetop, in a crockpot, or in a cauldron on a tripod over the fire.
The instructions in this article will focus specifically on the off-grid version: over an open fire!
Set your tripod in place above the wood to be burned before lighting the fire. Get a really good fire going: you're going to want a lot of hot coals and a small to medium fire. I usually get the fire started and take my time getting the chili ingredients together in the pot while bouncing back and forth to tend the fire. Once you have a thick bed of hot coals and a small, steady fire going, you can hook your pot to the tripod and let the magic happen.
There will be one recipe for meat eaters and one for non-meat eaters. You can also use canned or fresh ingredients; I prefer fresh over canned but I will give you both options.
Chili Seasoning
1 Teaspoon Fresh Ground Basil
1 Tablespoon Organic Onion Powder
1 Tablespoon Organic Garlic Powder
4 Teaspoons Chili Powder (I like to add a tiny bit extra sometimes)
2 Teaspoons Ground Cumin
½ Teaspoon Ground Cayenne Pepper
½ Teaspoon Crushed Red Peppers
2 Teaspoons Brown Sugar
½ Teaspoon Cinnamon
Chili Stew
1 ½ Pounds of Ground Chuck (You can use any kind of meat you want)
1 Can of Yellow Corn OR 1 Cup Fresh Corn
1 Can Hominy OR 1 Cup Fresh Hominy
1 Can Pink Beans OR 1 Cup Fresh Beans
1 Can Kidney Beans OR 1 Cup Fresh Beans
30 Ounce Can of Tomato Juice
2 Cans Tomato Sauce OR 2 Cups Fresh Sauce
2-3 Medium sized Roma Tomatoes
½ White Onion
3-4 Cloves of Garlic, Crushed
1 Green Pepper
1 Sweet Red Pepper
1 Jalapeno Pepper, Seeds and All
Vegetarian Version
For the vegetarian alternative, you are going to want a total of 4 cans or cups of beans. You can mix and match, choosing a variety, or stick with the traditional chili beans. Also in place of the pound and a half of meat I add a pound and a half of my favorite vegetables. Here are some vegetables that make for good chili:
Sweet & Spicy Peppers
Tomato – Roma and Plum are my go-to
Green Tomatoes
Tomatillos
Cucumbers
Carrots
Turnips
For those of you who like thick chili, be sure to use a little less sauce and cook it down longer. For something more like chili soup, add more tomato sauce. I like to mix up the bean ratio -- a nice alternative is to use half the amount of pink and kidney beans, replacing it with black beans and navy beans.
Some days I add in all of the ingredients and go about my day, while others I will brown the meat with the garlic and onion before adding everything else. Depending on how high your flames are, how often you feed the fire, and how big your bed of coals is your chili should be done in 2-3 hours.
Once my chili is set to cook I spend time doing yard work nearby. I only keep the pot uncovered if I am close by to keep an eye on what might fall in. If you cover your pot, be sure to keep a close eye so you don't extinguish the fire with your stew. This chili is even better the next day. I like to make a pot of Jasmine rice along with my chili so when it's ready I top my rice with chili and cheese and I'm ready to eat!
You can skip making your own chili seasoning if you want to but I like the control I have over the flavors when I make it myself. There are times I just need a little extra chili powder in my chili. I hope you've enjoyed this recipe. How do you like to make your chili?
* WEEKLY TIP * Try to make it a habit to use wooden utensils when cooking over fire and using cast iron cookware. Metal utensils tend to scratch the cookware and there is also the potential for the handles to get hot. Plastic is just bad in general when it comes to the kitchen -- I have seen my fair share of melted kitchen utensils.