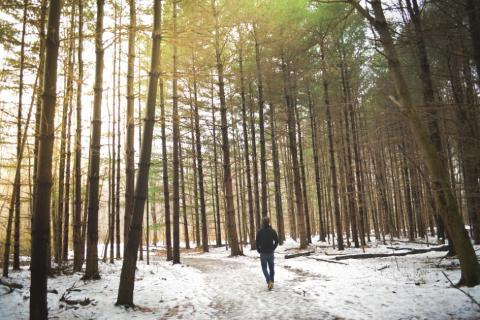 As the winter holidays quickly approach, many people may experience a mixture of excitement, anxiety, anticipation, and sadness, along with many other emotional states that come and go. Holiday rituals and the changing of the seasons can bring both celebration and introspection. We may enjoy spending time with loved ones, decorating, spiritual practices, or shopping, and we may also be grieving losses, evaluating the year behind us, and planning for changes to come. Hopefully, as we all go through our own unique holiday experiences, we can make self-care a priority. Most importantly, I think that means listening to yourself, so, the main point is to do what feels right to you.
You Might Reexamine Your Holiday Traditions
When we are growing up, we absorb a wealth of information about our culture, role, identity, and what is expected of us on holidays. Regardless of your cultural or religious background, you have a right to celebrate (or not) in a way that feels right to you. One of the great things about becoming an adult, or honoring your individuality at any age, is getting to take responsibility for writing your own life story. This includes questioning what types of practices fulfill you. If, for example, certain holiday traditions fill you with unease or certain family members stress you out or mistreat you, consider altering your plans to focus on activities that honor your authenticity and self-care. Some people choose to enjoy a "stay-cation" during the holidays and simply relax at home alone or with one or a few carefully chosen companions. Holiday celebrations are not required of you. Even if you love and revel in the holidays, examining how you can best listen to and care for yourself during this often hectic winter holiday season will not do any harm. 
You Can Be Creative with How You Spend Your Time
If you do decide to skip or alter your normal holiday routine, you have complete freedom to invent new traditions and ways of spending your time. Just as our ancestors developed many of the practices and traditions we carry on today, you are empowered to create your own rituals, if you choose to do so. Perhaps cooking a new dish with friends, traveling to a new destination with a loved one, having a pajama movie marathon with your crew, or going for a hike with your kids are fulfilling holiday activities for you. You might also come up with a hybrid plan, such as participating in one family or religious gathering while opting out of another that you enjoy less or find less meaningful. It can be hard to air out your identity and try new things, especially if you feel guilty or that you might disappoint others. Like so many areas of our lives, the holidays are a powerful time to practice voicing our needs and maintaining healthy boundaries. Families, cultures, and individuals naturally change over time. By valuing your own time and needs and listening to and caring for yourself, you may actually free up and inspire others in your life to do the same. As Marianne Williamson wrote, "as we let our own light shine, we unconsciously give other people permission to do the same. As we are liberated from our own fear, our presence automatically liberates others."
Consider Making a Plan for Self-Care Ahead of Time
Family visits, holiday parties, and other winter traditions can be invigorating, soothing, fun, and draining. If you're someone who needs to recharge from time to time or if you foresee an awkward conversation or difficult reunion coming up during the holiday season, plan ahead for self-care. If you find yourself in the middle of a challenging situation, knowing that you have already scheduled some down time or an escape route can be very helpful. Depending on your needs and preferences, self-care can look very different. It could entail yoga, napping, running, painting, basketball, spending time with a pet, or any number of activities—the important thing is that these activities nourish you. Figuring out how to incorporate these into your holiday plans is a great way to be your own friend. A powerful way to de-stress, inhabit your own body, and claim your space in the world is to use breathing exercises or mindfulness practices. An example is this 11-minute body scan from Buddhist teacher Tara Brach.
It's also important to recognize that for most of us, the holidays are going to be a mixed bag of experiences no matter what we do. Like any area of our lives, it's impossible to root out difficult emotions and challenging situations or to always respond mindfully. That being said, we can aim to relate to the holidays from a place of self-love and self-validation. Include yourself in the list of what you celebrate, uphold, honor, and love this holiday season.