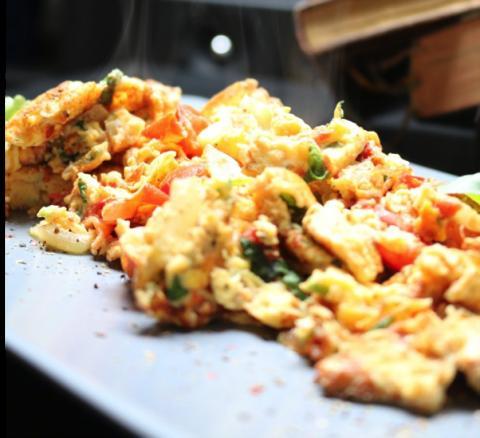 Tofu scrambles are a staple in many vegan diets because of their versatile nature and high protein content. This recipe stands out with the nutritional yeast and spinach which add essential vitamins and minerals such as iron, calcium, B12 and more. The onion, garlic and bell pepper add some rich flavors and color without overpowering the dish, making it the perfect way to start your morning. Try it as the filling for a delicious breakfast burrito with the simple addition of some vegan cheese and a tortilla!
Tofu Scramble (Vegan)
*Serves 1-2 people
Ingredients:
1 cup Extra Firm Tofu
1 Tablespoon Olive or Coconut Oil
1/2 cup Spinach
¼ cup Mushrooms (chopped)
½ cup Bell Pepper (chopped)
½ cup Onion (finely chopped)
1 Garlic Clove (minced)
2 teaspoons Nutritional Yeast
½ Avocado (sliced)
Salt & Pepper to taste
Directions:
-Start by draining and gently pressing the block of tofu to reduce the moisture. If you don't have a tofu press, you can do this by placing the tofu on a flat surface with some paper towels underneath and adding a heavy pan or cutting board on top to weigh it down. After about 10 minutes, much of the moisture will have drained out of the tofu.
-While the tofu is being pressed, begin cutting and preparing your other ingredients.
-Once drained, crumble the tofu using a large fork or break it up with your fingers.
-Heat the olive oil in a large pan or wok and then add 1 cup of crumbled tofu (store the rest in a sealed container) and cook for about 3 minutes or until the tofu is slightly browned.
-Now add the bell pepper, onion, mushrooms, spinach and garlic. Cook for another 2 minutes and then add the nutritional yeast. Season with salt & pepper to taste.
-Top with avocado slices and enjoy!