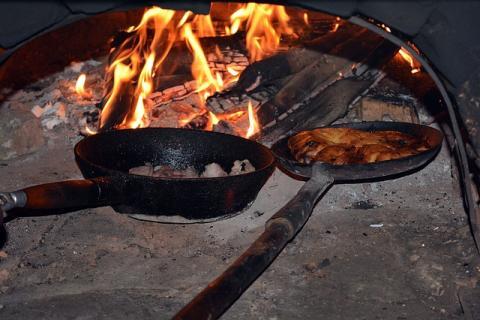 I love to make this breakfast over a nice outdoor fire in the Autumn. It is especially satisfying when I go collect and process the acorns and apples myself.
There's a lot of controversy about the healthiness of acorns because some varieties have a high tannin content, but if you have the time, patience, and desire, the leeching process (which removes the tannins) is well worth it! The good news is acorn flour, or acorn meal, is getting easier to find in different stores. However, it is a little expensive due to the amount of work it takes to properly process the nuts.
 Pancake Ingredients
1 Cup Acorn Flour
1 Cup White Flour
1 Teaspoon Salt
2 Teaspoons Baking Powder
2 Large Brown Eggs
¼ Cup Coconut Oil
½ Cup Raw Honey
2 Cups Raw or Whole Milk
Cinnamon Apple Mixture
2-3 Med. - Lg. Apples, Diced
1 Tablespoon Honey
Sprinkle of Cinnamon
Spritz of Fresh Lemon
Preheat coconut oil in a cast iron skillet until hot enough to fry. Mix the dry ingredients for the pancakes in one bowl and the wet ingredients for the pancakes in another.
Combine the wet and dry mixtures, adjusting if necessary: if it is too runny add more flour, and if it's too thick add more milk.
In a separate bowl, mix the ingredients for the cinnamon apple mixture.
Drop cake mix into pan in the desired size. Once the cake begins to brown a little, add a spoonful of the apple mixture, and give it about 15 seconds before you flip it. Cook until golden brown and serve.
I prefer to eat these pancakes just as they are without any syrup or anything extra. These cakes are so yummy and they leave the taste of Autumn in your mouth. I like to switch up the type of fruit I add to the cakes.
Cast Iron Tip Of The Week #2
Do not use metal cooking utensils in your cast iron cookware, use wooden or bamboo utensils. This is because using metal will cause your food to stick to the pan.