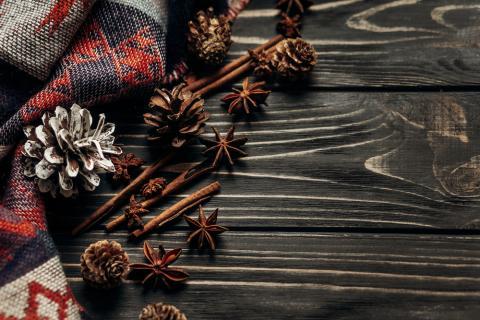 The holidays are creeping up on us and now is a good time to get to work on some sweet herbal gifts for your loved ones…or for yourself. Homemade botanical gifts add a wonderful personal touch to holiday (or any time) gift-giving.  Here are a handful of popular and easy-to-put-together projects.    
Herb-Infused Citrus & Pine Honey
This is a delicious addition to recipes or to simply enjoy by the spoonful. Herbal honeys can be good medicine as well. Even the raw honey itself is medicinal. The technical term for herb-infused honey is electuary. The citrus and pine recipe here is super tasty and is for supporting healthy immune system function as cold and flu season kicks in. 
Supplies
Raw honey
Clean, dry glass jar w/ lid
Double boiler 
Pine needles
Peel from fresh citrus:  Lime, Orange, Lemon, Grapefruit, Mandarin. Consider a blend. Each will have somewhat different aromatics. 
Directions
Dry your citrus peel for several days.  Pine needles are relatively low in water, but let them sit several days after harvesting as well.  
Chop citrus peels into small pieces about the size of a peppercorn. Chop up pine needles into bits around 1/4-inch long. 
Add enough peel and needles to fill jar halfway.
Add raw honey and stir to remove air bubbles. Tap the jar to release air bubbles, or use a clean chopstick to stir. 
Set in a sunny windowsill for 3 weeks, inverting the jar daily. 
Strain and store in a clean jar.
Use by the spoonful or add to warm water to make "tea." Can also be used in recipes such as salad dressing. 
Spiced Winter Cordial
Technically speaking, a cordial is an alcohol and water-based herbal preparation that's sweetened.  Traditionally, they were taken in small servings of about an ounce either as a tonic or for a particular health issue.  Consider gifting a lovely set of cordial glasses along with the cordial. Cordials can be made for cardiovascular support, for immune support, or simply for general health.  Aphrodisiac cordials are also popular (if you don't believe me, search online for "chocolate damiana"). 
This is a winter blend to keep you warm and healthy.
Supplies
Brandy or rum (or other 80 proof alcohol)
Medicinal herbs:  Astragalus, Reishi, Ginger, Cinnamon (~1/4-1/2 teaspoon per pint of cordial) 
Cardamom (~1/4 teaspoon per pint of cordial)
Additional Flavoring (1 teaspoon chopped Black Currants, 1 chopped Vanilla bean per pint of cordial)
Directions
Decide on total amount of cordial you are making.
Make strong Astragalus tea.  One-third of the liquid in the cordial will be this.  Add 1 teaspoon Astragalus per each 8 oz. water in a pot. Bring to a boil, then reduce heat to simmer for 30 minutes to an hour. Add more water if needed.  
Fill jar 2/3 of the way with the remaining medicinal herbs/spices and add the chopped vanilla bean and currants.
Fill jar all the way with a mix of 2/3 brandy or rum and 1/3 Astragalus tea.
Let jar sit for 4 weeks out of direct sunlight. Shake it periodically. If you need the finished product sooner, you can press it after 2 weeks, but flavor will be more interesting if you let it steep longer. 
Strain & save liquid. Put in a fancy bottle with an ingredient label. 
Daily dose is 1 Tablespoon to 1 oz. 
Dream Pillow
Sleep and dream pillows are a sweet way to promote good sleep and a memorable dream life. Dream pillows are simply a pouch of some sort that is stuffed with aromatic herbs.  It should be small enough to slip into a pillowcase and not form a huge lump (not so great for sleep!).  
Supplies
Dried aromatic herbs. Some ideas (these all can be blended together or used individually):

Chamomile (used for relaxing)
Lavender (used for relaxing and sweet dreams)
Mugwort (used for more intense dreams and better dream recall)
Juniper Berry or Leaves (used for protection and for preventing nightmares)
Hops (Strong smelling but a pretty reliable sedative herb)

Smallish Pouch. You can sew one out of pretty cloth (maybe one that has a moon and stars design?).  Many herb or craft stores will have drawstring bags available.  Look for something more than a couple inches but smaller than ~6 inches in width.
Directions
Fill pouch with herbs and either sew it shut or use a tie string so you can refresh the herbs periodically.
Dream pillow can be used nightly but will be more effective if you or your "giftee" takes breaks.
Scented Tea Candles
Candles are a great holiday gift, especially when made with natural ingredients and pure plant essences.  
Supplies
Small muffin tray (the kind where the cups are 1-1.5 inches in diameter)
Beeswax
Small candle wicks that come already inserted into metal wick clips. If you can't find these, buy the wick clips and tabs separately and assemble. In a pinch, I've purchased cheap tea candles, tossed the synthetic wax and used the metal cup, wick and wick tab
Essential oil
Optional: Alkanet root to give the candles a red tint
A pretty or festive box to pack them in & some tissue paper for wrapping the candles
Instructions
Lightly grease the baking tray.
Assemble/place wick and wick clip into the baking tray holes.
Carefully melt beeswax in double boiler. 
Optional for tinting your candles: Add a teabag or cloth sack with alkanet root. Use about 2 teaspoons chopped root per 8 oz. melted wax by volume. Let steep in the melted wax until wax is scarlet red. 
Add essential oil to each hole in the tray. About 6 drops total per cup. A good blend for the holidays is: 1 drop Clove; 1 drop Cinnamon; 1 drop Vanilla absolute; 3 drops Orange.
Pour melted wax into cups. (It should be just hot enough that it pours but not so hot that you instantly vaporize the essential oils…This may take practice.)   
Straighten wick if necessary, and let wax harden.
Carefully pop candles out of holder.  If you're having a hard time doing this with a metal tray, try a silicon one. 
Enjoy your gift making adventures and happy holidays!