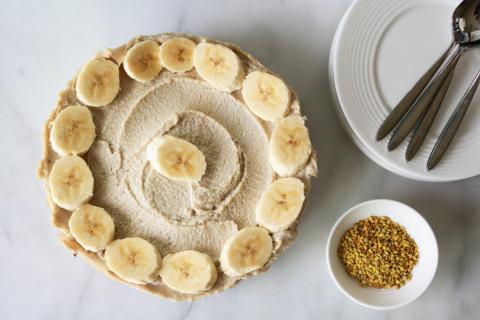 Do you like a little dessert now and then, or maybe more often than not? Most of us have an affection for sweet flavors but unfortunately many desserts, whether served in restaurants or of the prepackaged variety, are filled with ingredients that we'd be better off without. It's a good thing there are desserts like this raw vegan cashew cheesecake. Not only is it sweet, creamy, and a little chocolate-y, it's also nutrient rich. If you want to stay healthy while still getting your sweet on, or just want to make a nice plant-based dessert that your friends and family will love, read on.  
The Sweet Flavor in Ayurveda
Naturally occurring sweet flavors are part of a healthy, balanced diet. In Ayurveda, the sweet taste is thought to strengthen and nourish the body. It's made up of earth and water elements and is characteristically heavy, wet, and cool. It's the primary taste in grains, fruits, root vegetables, nuts, seeds, dairy, eggs, and meat. Sweetness soothes pitta, the hot, humid qualities associated with summer; and vata, the windy, dry qualities prevalent in fall and winter; but aggravates kapha, the cool, heavy, wet characteristics of spring. When consumed in excess, the sweet flavor is connected to the darkness of greed, but when balanced, it's associated with love and bliss.
Sweet by Nature
For many of us, Ayurveda's interpretation of sweetness as nourishing is a revelation. After all, in the industrialized world, it's not uncommon for people to develop an unhealthy preference for excessively sweet flavors. When we're tired or sad, many of us reach for sweets, feel terribly afterwards, and vow to never do it again, only to find ourselves repeating the cycle soon after. Over time, this type of emotional eating is not only taxing and degenerating, it quells the natural intuition that guides us to the right choices in every part of our lives, not just in our diets. When we feel badly after eating something, there's good reason to listen. The body is forced to work hard but gets little in return when we eat biologically unavailable, denatured foods. On the other hand, when we eat naturally occurring sweet foods we don't just get flavor, we also get all the nutrients and energetic qualities that those foods contain as well. And while it may take time to wean ourselves off of excessive amounts of refined sugar, over time our bodies thank us. Eliminating a reliance on unnaturally sweet flavors releases us from those dreaded post meal ups and downs, and ultimately balances our sense of taste and opens our palates in new, exciting ways.
This raw vegan cashew cheesecake celebrates the kind of sweetness found in nature. The sweet flavor, along with the creaminess of the cashews and bananas, and a layer of nutty chocolate crust, amounts to a delicious treat that provides you with clean, steady, feel-good energy. Enjoying this type of dessert as part of a larger, balanced approach to eating just might bring you closer to the type of satisfaction we all crave: the lasting kind.
Raw Vegan Cheesecake with Bananas
Serves: 4 large slices/8 small ones
Soak Time: 6 hours
Prep Time: 30 minutes
Refrigeration Time: 1 hour
Total Time: 7 hours, 30 minutes
Ingredients
For the crust:
1 cup raw walnuts
1 cup pitted Medjool dates
2 Tablespoons unsweetened cacao powder
1/4 teaspoon sea or pink Himalayan salt
For the filling:
3 cups raw cashews
3 Tablespoons coconut butter (also called coconut manna)
3 Tablespoons raw unfiltered honey (or agave, if vegan)
1 scraped vanilla bean or 3/4 teaspoon pure vanilla extract
3 pitted Medjool dates
1/4 teaspoon sea or pink Himalayan salt
1/2 cup water
For the topping:
2 bananas (or more), sliced into coins
bee pollen (garnish, optional)
Directions
Soak the cashews: place the cashews in a bowl with 2 heaping teaspoons of salt, cover with room temperature water, and set aside to soak for at least 6 hours, or overnight.
Around twenty minutes before you're ready to put the cheesecake together and at least an hour before you're ready to serve it, begin making the crust: place the walnuts, dates, cacao powder, and salt in a food processor and pulse until the mixture sticks together somewhat but still has a sandy texture. (Don't over process or the mixture will get gooey.)
Line an 8x8" springform pan with parchment paper. Transfer the crust mixture to the spring form, pressing it evenly into the base. Transfer to the refrigerator to chill and proceed with the recipe.
Place the coconut butter, honey, vanilla, dates, and salt in the food processor and process until a paste is formed.
Drain and rinse the cashews. Add them to the food processor along with a little bit of the water. Turn the food processor on and leave it running as you add the rest of the water in increments. Continue to run the machine until you reach a creamy, ricotta-like texture (this might take up to 7 minutes). Taste and adjust the filling, adding more water for a less dense texture, or more honey or agave for additional sweetness.
Remove the springform from the refrigerator and spoon the filling into it. Press the filling into the crust to remove any air bubbles. Cover and place the cheesecake in the refrigerator to set for about an hour.
When you're ready to serve the cheesecake, slice the bananas into coins and place them on top of the cake. Plate with additional banana slices on the side, garnish with bee pollen (if using), and serve immediately.
Additional Notes:
The best dates are soft and a little gooey, but sometimes by the time we find them, they're dry. If you happen across a batch of dry dates, cover and soak them in warm water for 10 minutes before using them in this recipe.
This cashew cheesecake is made for bananas; don't be shy when adding them.
Photos by Shiraz Leyva