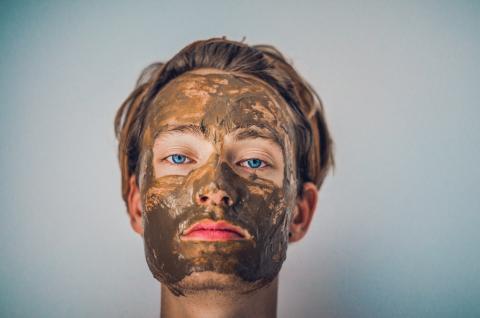 Think carrots and you end up having a toon flashback of Bugs Bunny. But the 'B' you should be thinking about when it comes to this root is beauty, for as good as carotene is for the eyes, it's pretty good for the skin too!
So yes, eating carrots, raw or cooked, is a great thing. They are rich in beta-carotene (which the body converts into vitamin A), fiber, vitamin C, and vitamin K–and so they keep your eyes, skin, immunity, blood, and digestion running in good order. And as rabbits would verify, raw carrots do have a rather addictive crunch so do replace those salty cravings with carrot sticks and a yummy garlic dip every now and then.
Carrots for the Skin
What most people don't know is that carrots are awfully good for your skin as well, particularly if applied topically. Carrots can be juiced or boiled and turned into really great face packs, and we list the reasons why you should go carrot crazy every fortnight or so.
The beta-carotene (read vitamin A) works to firm up the skin and give it a pleasant glow.
The vitamin C in carrots is a great antioxidant and aids in ridding the skin of its top dull layer while providing a little anti-aging action as well.
The vitamin K aids in good blood circulation which in turn boosts cell vitality. Healthy skin cells mean the skin will look brighter and work harder towards removing any tan or dullness and even lighten those dark spots and under eye circles.
So all in all, carrots can do a whole lot of good for your skin–both from within and on the outside. It's great to eat them raw and cooked, plus they are awesome to use on the skin as well.
Carrots Say Go Bright
Is your skin feeling dull and tired? Our busy lifestyles can take a toll both on our skin and health and many a time, the tiredness we feel within is displayed on our face for the world to see. To give your skin some much needed TLC, try this papaya, milk, and carrot face mask…(And do read this article on natural fruit peels, too!)
Puree a peeled, washed, and chopped carrot along with a few pieces of papaya, a little milk, and a squeeze of lemon juice. Make sure the paste is smooth and non-drippy. Apply this on a clean face, neck, and décolletage and bury your nose in a book for 15 minutes. Wash off with lukewarm water for a smooth glow.
Carrots Say Look Younger
Face showing your age a tad too honestly? While it's great to look your age, sometimes our skin can look way older than what we feel at heart. A carrot face pack made with a pulpy banana and egg white can help restore the skin's elasticity a bit, while you load up on antioxidant-rich foods to help you become youthful from within.
Peel and chop a carrot and then boil it in water till it softens. Puree the carrot, one slightly overripe banana, a pinch of turmeric, and an egg white till it's a smooth, thick paste. Apply this all over your face, neck and even the breast area–this mask helps combat sag so it's great for the décolletage as well. Wash off with lukewarm water after 15-20 minutes. You can choose to wear an old bra to add some heat factor to increase the effectiveness of the mask for your breasts.
Carrots Say No More Dullness
The next time you juice a carrot to get to its health factor, keep aside 2 tablespoons for your skin as well. Mix 2 tablespoons honey, 1 tablespoon thick cream (or yogurt for oily or acne-prone skin), and the carrot juice together evenly. Apply this carrot face mask on your face, neck, hands, and feet and let it air dry for 10-15 minutes. Wash off for glowing skin.
Carrots Say Let's Even Out Skin Tone
Back from a beach holiday? We're sure the tan looks amazing. But after a while the tan can fade into splotches, leaving you with uneven skin color.  That's when it's time to work it off for good! Let the goodness of the sun (earth too!) work in your favor with this carrot face mask that targets uneven skin tone.
Peel and chop a carrot and puree it along with yogurt, a bit of turmeric powder and some good old gram flour (besan) or oatmeal to form a thick paste. After you have soaped off the grime, use this all over on wet skin and give yourself a thorough scrub with it, from face to toe—spending 15-20 minutes in all. Shower off for moisturized and visibly brighter skin. Repeat this once a week for a month and your skin color will even out.
Carrots Say Zap the Pimples
Plagued with pimples? Angered by acne? Zap those zits with nothing more than carrot juice, honey, and a couple of pinches of cinnamon. Mix 1 tablespoon carrot juice with 1 tablespoon honey and 2 pinches of cinnamon powder. In case you are out of cinnamon powder, crush in two aspirins instead. Apply this all over your face with a little extra dab on any acne and wait for 15 minutes–wash off with lukewarm water for a glowing face. Repeat this twice a month to see the spots slowly but surely vanish…
Remember that for all the bottled stuff on the market shelves that we use in the name of beauty, there's always a substitute at home. All you need to do is raid the garden and the kitchen shelves. Such homemade beauty treatment may not give you instant results but is likely to be kinder to your skin in the long run! Now go make yourselves shine!