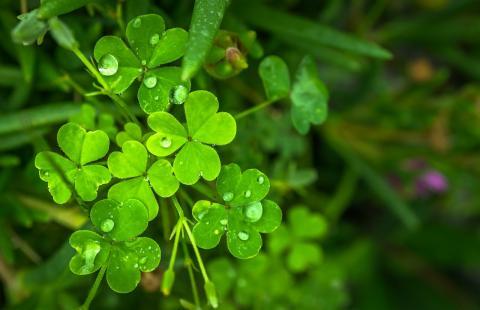 St. Patrick's Day isn't conducive to health or fitness, or so it might seem. But there are ways to make your shamrock day greener—think food dye-free, vegetable-heavy, and environmentally friendly. Here are 10 ways to make your St. Patty's Day natural.
1. Buy organic
There are plenty of reasons for buying organic produce over conventional—less pesticides, more nutrition, and often a better way to support local farmers. Hosting a St. Patrick's Day party? Consider ordering a pasture-raised, organic beef brisket or organic cabbage for a traditional meal.
2. Try a vegan dish
Corned beef and stewed cabbage might be tasty, but consider bringing a vegan dish to a St. Patty's Day potluck. Vegan fare doesn't mean plain ol' vegetables; share a vegan Shepard's pie or vegan soda Irish bread.
3. Nix the straw
Headed to a pub? If you're ordering a drink, ask to receive it without the straw. Straws have an extremely large, negative impact on the health and cleanliness of our beaches and oceans. 500 million straws are used and discarded every single day in the United States alone, as the Plastic Pollution Coalition reports.
4. Wear green—from a greener source
Even those who don't share Irish descent often don green on St. Patrick's Day and while wearing what you already own from your closet is the best choice, missing out just because you don't own green pants is a poor reason to stay at home. Rather than rushing to the store, head to your nearest thrift shop. Why? By picking out a used green fedora or chartreuse cardigan, you can support a local business, reduce waste, and even save money.
5. Skip the green dye
Few restaurants and pubs don't serve green beer on St. Patrick's Day and that can be a problem, especially since green dye is toxic. Food dyes are often toxic to laboratory animals, as this study suggests, and yet they're added to everything from cupcakes to frosting to yogurt. Rather than guzzle a pint of green beer, consider making your own mojito-inspired green kombucha, a veggie-packed green smoothie, or a refreshing green juice instead. There's even the option of chlorella water—simply add a half teaspoon of chlorella powder to spring or filtered water and enjoy your green hydration.
6. Walk, bike or ride share
Planning to head downtown or to a friend's house to celebrate? Instead of driving, map out your route via public transportation—train, bus, or ferry. Better still, ride your bike (bonus option: decorate your chosen 10-speed with colorful green streamers, old green ribbons, and even cardboard cut-out shamrocks) to the celebration. Live close by? Walk.
7. Protect the green
For not much more than the cost of a beer, you can donate to a wildlife or environmental conservation. Consider donating to the World Wildlife Fund, Global Wildlife Conservation, or another conservation-based non-profit, or try your hand volunteering to remove invasive species to really stay green.
8.  Go green at home
Hosting a St. Patty's Day bash this year? If you're still cleaning with conventional, often toxic, household cleaning products, it's time to switch to green cleaning. In addition to being safer for kids, pets, and those with allergies, green products are often more economical since they can be made at home with ingredients like baking soda, lemon juice, and vinegar—products you probably already have.
9. Plant a garden
Sure, St. Patrick's Day isn't about plants, grass, and other green foliage, but if we're drinking beer and eating cabbage, why not celebrate by planting an early season garden? Think bright green veggies like peas or lettuce.
10. Swap your Shamrock Shake for this
Shamrock shakes are popular during March when a large fast-food chain sells these 550 calories worth of artificial flavorings and colors by the dozen. Stay away from the drive-thru and make a healthier, and dare I say, tastier version on your own. I base my recipe on Wellness Mama's recipe, but include frozen bananas (so that you have the option to eat this like ice cream) and dark chocolate chips (because chocolate makes everything better).
Healthy Green Shake Recipe
Ingredients
·         2 frozen bananas
·         1 large handful spinach
·         4-5 mint leaves (stems removed)
·         1 avocado (optional, but adds creaminess)
·         1 cup almond milk (macadamia or hemp milk work great here, too)
Instructions
Mix all ingredients in a high-speed blender. You may want to add more or less milk depending on the consistency you are aiming for. Top with cacao nibs or, my personal favorite, dark chocolate chips, for an added delight.