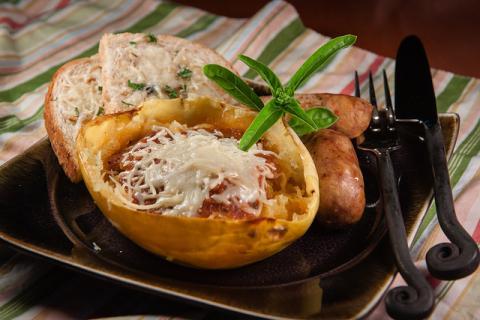 While there are several healthy pasta varieties that are making a comeback, one of the healthiest alternatives to date is spaghetti squash. In fact, 1 cup of spaghetti squash noodles only has 42 calories, compared to about 200 calories for 1 cup of traditional pasta, according to the USDA National Nutrient Database. When cooked, the vegetable takes the shape of a noodle, making it a delicious low-carb, gluten-free option for those who want to continue making pasta dishes without any guilt.
Because tomatoes are in season, I included a simple tomato sauce recipe as a flavorful addition to the noodles. However, almost any traditional pasta sauce will do the trick. 
Spaghetti Squash Noodles
1 spaghetti squash
2 teaspoons olive oil
1 teaspoon salt
1/2 teaspoon black pepper
Preheat the oven to 425 degrees Fahrenheit.
Cut the spaghetti squash in half, and scoop the seeds out with a spoon. Drizzle olive oil over the flesh of both halves of the squash, and evenly sprinkle with salt and pepper.
Place both squash halves in a greased baking sheet with the cut-side down, and place the baking sheet in the oven. Cook for approximately 45 minutes to an hour, or until fork tender.
When the squash is cool enough to hold, gently scrape the flesh out with a fork. The flesh should be removed in long strands (that look like spaghetti noodles), and placed in a medium bowl.
Tomato Sauce
6 ripe tomatoes
1 tablespoon olive oil
1 tablespoon butter
1 small onion, chopped
3 cloves garlic, minced
1/4 cup chopped fresh basil
1/2 teaspoon Italian seasoning
Salt & pepper to taste
Create an ice bath by filling a mixing bowl with ice and water. Set next to the stove. Prepare the tomatoes for blanching by cutting out the core of each and then slicing an "x" in the bottom of each one.
Boil a pot of water. Place the tomatoes in the boiling water until you see the skin start to wrinkle (about 1 minute). Lift the tomatoes out, and immediately submerge them in the ice water.
Transfer the cooled tomatoes onto a cutting board, and strip the peels from the tomatoes. Roughly chop the tomatoes. Put the tomatoes into a food processor. Pulse a few times for a thicker sauce, or puree the tomatoes for a smoother sauce.
In a large pot, cook the onion and garlic in the olive oil and butter until the onions are translucent (about 5 minutes).
Pour in the tomato sauce, basil and Italian seasoning. Cover and simmer over a medium heat for about an hour, stirring occasionally. Salt and pepper to taste.
Photo Credit: "Spaghetti Squash with Heirloom Tomato Sauce and Sausage" by hathaway_m is licensed under CC BY 2.0