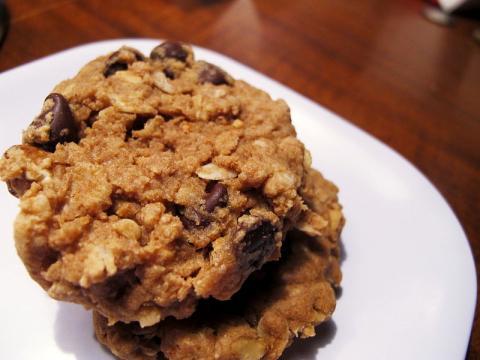 Whether you're sipping your coffee on the couch or spilling it as you rush out the door, some sort of morning fuel is a non-negotiable. For those of us on a plant-based diet, however, many breakfast foods are sadly off the table. Scrambled eggs, French toast, yogurt, sausage, bacon… classic staples, but not vegan-friendly.
Thanks to this breakfast cookie recipe, gone are my days of puzzling over how to create a chickpea omelet in the 25 minutes I have left before work, and I've sipped my last watery kale smoothie. This vegan breakfast cookie recipe packs a hearty load of whole grains, protein and antioxidants - and fuels my active mornings.
What you absolutely need:
2-4 very ripe bananas (depending on size)
1 ½ cups old-fashioned oats
1 cup instant oats
That's it. But…
What you might want to add (choose 2-3):
1/2 cup dark chocolate chips
1/2 cup pepitas
1/2 cup dried berries
1/2 cup crushed walnuts or pecans
1/2 cup peanut butter
1/4 cup coconut flakes
Line a baking sheet with parchment paper and preheat the oven to 350F degrees.
Mash the bananas. This is where the antioxidants in the cookies come from, so the browner the better. You can mash them in the bowl with a fork, or sometimes I peel them, throw them in a plastic baggie, and smush them with my hands.
Add the oats to the bananas in the bowl. It should be pretty moist, but about the consistency of regular cookie dough.
Add the mix-ins! This is the fun part -- you can mix it up every week until you find your favorite combination. I like to add dark chocolate, crushed walnuts and some cinnamon raisin peanut butter.
Roll the dough into 3-inch balls.  If needed, add more oats until it rolls into a ball easily.
Drop 3-inch balls of dough onto your cookie sheet, as many as you want since they don't spread or change shape. Bake for 6-8 minutes. They might look a little underdone when you take them out, but that will ensure that they won't be too dry once they cool and harden.
Enjoy with a mug of your favorite tea or coffee – at the table or on the go!