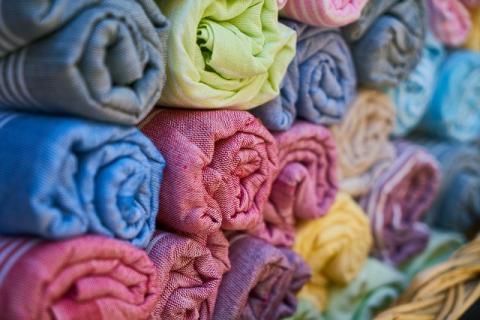 Have you ever thought about what your clothing is made from?  Most clothing these days is made from synthetic materials. Or try entering a local fabric store; it's rare to find any textile with a label listing actual ingredients. Even more extraordinary is to find a textile that comes from your local community. According to federal regulations, most textile and wool products must have a label listing fiber content, country of origin, and identity of the manufacturer or another business responsible for handling the item. However, fabric cut from bolts or rolls in stores don't require labeling.  
For the past five years Fibershed, which is located in Santa Rosa, California, has been building a regional and regenerative textile model linked to the health of the soil in a way that supports community ranchers and artisans. Through the Community Supported Cloth program, the goal is to provide regionally grown and woven textiles with no synthetic finishes or toxic dyes, and at the same time, offer local jobs.
Fibershed gets its wool from the sheep of Bare Ranch, a multi-generation ranching family. Bare Ranch is in the process of implementing a Carbon Farm Plan based on soil restoring practices and a carbon farming approach. Pasture on the 1,600-acre ranch is being treated with compost, about 112 acres per year, requiring about 14 years to treat the entire acreage.
As they grow the model together, Fibershed is partnering with a larger group of artisans, including Chargeurs Wool in Jamestown, South Carolina. Other partners include Huston Textile Company in Rancho Cordova, California with a vision to create small-batch textiles using vintage American machines.
Through this Community Supported Cloth model, Fibershed is producing regionally grown 100 percent wool textiles and have plans to increase production over the coming years.
 For more information see http://www.fibershed.com.