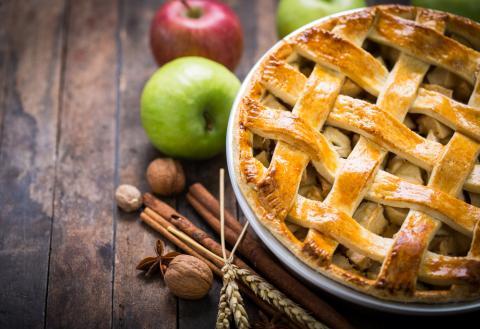 Vegan Pie Crust
*Yields 2 crusts
Treat yourself or some party guests to a homemade vegan pie (or two) this season. With the holidays in sight, colder weather is the perfect excuse to stay inside and bake! Whether you prefer the classic apple pie, a fruity berry blend, or creamy key lime, the options for delicious vegan pie fillings are endless. Pro tip: to achieve the creaminess of key lime, or zest up your pumpkin pie, try adding some silken tofu to the filling!
Ingredients:
2 cups Flour
¼ teaspoon Salt
2 tablespoons Sugar
1 stick vegan Butter (cold)
4-5 tablespoons Water (cold)
Directions:
-Chill the butter in the freezer for at least one hour.
-Combine flour, salt and sugar in large bowl.
-Using a large fork or a pastry cutter, mix in the cold butter until blended and slightly crumbly.
-Add the cold water, using just enough to moisten the mixture and form a dough.
-Divide the dough in half and shape each half into a ball before flattening slightly.
-Now you can wrap the dough and store in the fridge for later, or roll it out immediately and add your favorite pie filling!