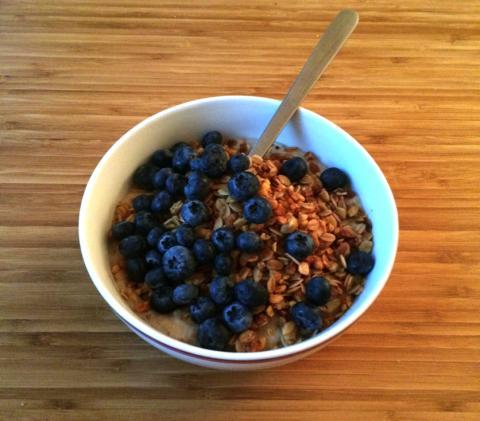 As the days get cooler and the mornings get darker, I start to crave more warming and hearty breakfast foods. As a runner, fall is typically a time of peak preparation; many large races occur in the fall months, and my training season is no different. About 4 weeks ago I started training for my second big race of the year: the California International Marathon, affectionately called CIM. While the race is known for its world-class organization and net downhill course, it is anything but easy. As you might suspect, training is no cakewalk either, and on these dark, cool mornings, I need something healthy and delicious to refuel after an early morning run.
This morning was one of those mornings where you could feel the seasons changing. I ran with my usual mid-week morning group, and collectively we watched the sunrise as we ran mile, after mile, after mile. Upon returning home, I was famished (and exhausted). My workout from the day before had left my legs tired, and the additional 7 miles that the group ran this morning had me ready to climb back into bed. Instead, I filled the hot water kettle, grinded the coffee, and reached for the steel cut oats.
Steel cut oats, the least processed and most hearty of oats, are famously healthy. They boast a relatively high protein content, fiber, iron, calcium, and a little bit of fat for good measure. I love their chewy texture and nutty taste; perfect after a long, hard run. But of course, a bowl of plain oats isn't very exciting, so I've tweaked and changed my typical morning oats over time and have come up with a breakfast that is pretty dang satisfying.
For my marathon morning oats, I start by cooking the oats in both water and almond milk to give them a creamier texture. Just towards the end of cooking, I like to add a spoonful of peanut butter, highlighting the nuttiness of the oats and adding a touch of salt and fat. To finish, I add granola, sometimes homemade, sometimes not, and lots of fresh berries or other fruit. The result is a meal fit for a marathoner, but perfect for anyone who enjoys a hearty breakfast.
Marathon Morning Oats
(serves 2)
½ cup steel cut oats (I love the Bob's Red Mill brand)
1 ½ cups water
1 ½ cups plain, unsweetened almond milk
2 tbsp natural peanut butter
½ cup granola
½ cup fresh berries
1 banana
In a small pot, bring oats, water, and almond milk to a boil. Reduce heat to low and simmer, covered for 10-15 minutes. Add peanut butter during the last few minutes of cooking, stirring to melt and combine. Remove from heat and pour oats into two serving bowls. Top with granola, berries, and sliced banana. Serve and enjoy!
Tip: Steel cut oats are the longest cooking oats on the market. If you're short on time, try quick cooking steel cut oats, rolled oats, or even instant oats.