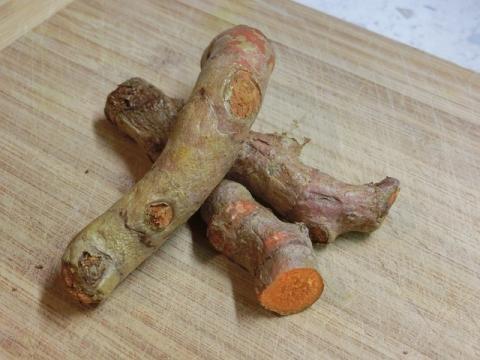 Turmeric is making its way under the superfood spotlight, and for good reason: it is anti-inflammatory, an anti-depressant, kills cancer cells, and gives skin a healthy glow, to name a few things it can do. Using it as a food rather than a supplement yields the most benefits, as turmeric requires fat to metabolize. Turmeric is in the same family as ginger, so it packs a punch of flavor which can make it difficult to consume without overpowering your food, unless you're fine eating curry every day. Using fresh turmeric really optimizes its health and flavor powers because it hasn't been processed into powder. Here are some ways to incorporate fresh turmeric into everyday recipes:
Drink lemon ginger tea with fresh turmeric. In a tea infuser, add one teaspoon each of peeled, thinly sliced fresh ginger and turmeric. Pour boiling water over infuser and steep for at least five minutes. Remove infuser and squeeze desired amount of lemon into tea.
Add turmeric to green smoothies. Peel a chunk of turmeric and blend it into your favorite smoothie.
Use fresh, finely chopped turmeric in vegetable curry, along with curry powder or paste.
Sprinkle some grated turmeric in a quick-bread batter. My friend recently mixed some into banana bread and it added a nice color and hint of spice. I imagine it would go quite unnoticed in carrot cake muffins.
Try a golden milk latte, for a slightly sweet and satisfying beverage that's delicious anytime! There are many ways to make golden milk -- here is my recipe:
-1/2 cup full fat coconut milk (either in a can or small carton)
-1 cup almond or hemp milk
-1/2 inch fresh turmeric, peeled and sliced thin
-1/2 inch or less ginger, peeled and sliced thin
-1/2 tsp vanilla extract
-1/4 tsp or more ground turmeric
-1 tablespoon coconut oil
-1 tablespoon liquid sweetener (I like to use honey or coconut nectar)
-pinch or more of cinnamon
-pinch of pink Himalayan salt
-pinch of black pepper
Heat all ingredients (except honey, if using) in a medium saucepan and simmer, never boiling, for 3-15 minutes, stirring frequently. Either pour into mug over strainer or transfer to blender. Use a milk frother  or blend until frothy.