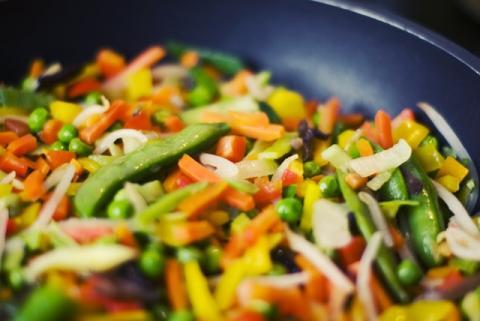 Pre-cooking meals can be a great way to eat nutritional, affordable, and organic food on the go! Each week, I'll provide a recipe for a few days' worth of pre-cooked goodness. Each recipe will include vegetarian and gluten-free options. To read more about the benefits of pre-cooking your meals at home, click here.
This recipe is one of my absolute favorites for easy and delicious packed lunches for the workweek! There are endless varieties that you can bring to this basic format to keep your taste buds interested and singing. As rice is naturally gluten-free, it caters to grain restrictions as well as being accessible to both meat and vegetarian protein varieties. Sauce selection is key in this recipe and allows you the freedom to transform this basic stir-fry into the framework of just about any cultural dish. Play with different combinations of veggies, keeping in mind the flavor you are going for. Brussels sprouts, zucchini, asparagus, mushrooms, bell pepper, and kale paired together is one of my favorite mixes. As I'm putting my lunch together in the morning, I also love to add a favorite topping or two such as fresh avocado, tomato, green onion, sprouts or nutritional yeast. Feel free to make it as simple or flavorful as you want! Hope you enjoy and stay tuned for next week's recipe!
Stir-Fry Medley
Serves 2 people for 3 days' pre-cooked lunches
Ingredients/Supplies You Will Need:
1 cup of raw rice (will yield approximately 3 cups of cooked rice to last you for 3 days worth of lunches). Rice is naturally wheat/gluten-free, so get creative with your favorite rice! This is what makes rice such a great staple.
As many veggies you can fit in your largest oven tray (At least 6 cups, if you want to measure)
12 oz. of chicken breast (or vegetarian/vegan protein of your choice – options include tofu, tempeh, fish, beans etc. – for this recipe, I'll provide instructions for tofu).
1 lemon
 
Cooking oil of your choice
Red wine vinegar
Your favorite seasonings (salt, pepper, thyme, cumin as suggestions)
Your favorite cooking sauce (suggested: tika masala, pesto, peanut sauce, BBQ)
 
2 large oven pans (one for veggies, one for chicken variation)
1 medium sauce pan (for tofu variation only)
1 medium-sized pot (for rice)
1 large bowl
1 small bowl
Stirring spoon
To Start:
Turn the oven on to 425 degrees
While the oven is pre-heating, start your rice, which will take the longest. 1 cup of rice should be paired with 2 cups of water. Put together in a medium-sized pot uncovered on high until it reaches a steady boil. Once boiling, turn down to simmer and cover. Depending on the rice you decide to use it will usually take about 40-50 minutes to finish.
Chicken Variation: Place your raw chicken in a large bowl. In a separate smaller bowl mix 2 tablespoons of cooking oil with 1 ½ cups of your selected sauce, 1 tablespoon of red wine vinegar, seasonings of choice and squeeze in half of your lemon. Stir until thoroughly mixed and then pour over chicken. Stir until evenly spread on each piece. Take your first oven pan (for your chicken) and spread on a thin layer of your cooking oil of choice. If you would like to use coconut oil, place a spoonful into the pan and stick in the warming oven for a minute so that it melts. Place chicken from the bowl onto the pan, squeeze the other half of your lemon on top, and stick onto the top rack in the oven. Chicken breast will usually take between 25-35 minutes to be ready.
Tofu Variation: First, make sure to drain tofu. Spread a thin layer of cooking oil of your choice onto a medium sauce pan. Once oil is hot, add slices of tofu. Add seasonings. Generally, tofu needs about 5 minutes per side to get a crispy, even finish. Once crispy, add 1 cup of sauce of choice, 1 tablespoon of red wine vinegar and squeeze in half a lemon.
Chop up all of your veggies. Spread a thin layer of cooking oil onto a large oven pan. Spread your veggies out on the pan, stir around to mix with the cooking oil and sprinkle your choice seasonings on top before sticking in the oven on the lower rack. Keep an eye on these but they should be done in about 20-25 minutes.
Once chicken/tofu and veggies are done, bring out on the counter to cool and place into separate storage containers.
Once rice is cooked, mix in 1 spoon full of cooking oil (preferably coconut oil for rice), and mild seasoning. Place in storage container.
Ta Da! All done! This way, in the morning it is as simple as taking portions from each container into one for your lunch and you are on your way. Happy eating!