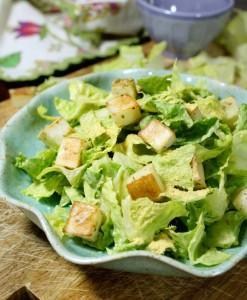 Try this great Caesar dressing alternative! With avocados replacing the mayonnaise, and nutritional yeast replacing the parmesan for added nutrition and flavor.
Ingredients:
1 ripe avocado, pitted (about 1/2 cup mashed)
5 cloves garlic, minced
2 tablespoons fresh lemon juice
1 teaspoon apple cider vinegar
1/2 to 3/4 cup water
1 teaspoon Dijon mustard
1/2 teaspoon sea salt
2 tablespoons nutritional yeast
Directions:
Combine all ingredients in a high-speed blender and mix until smooth. Add more or less water to reach your desired consistency. Pour over romaine lettuce (or any other salad) and enjoy!