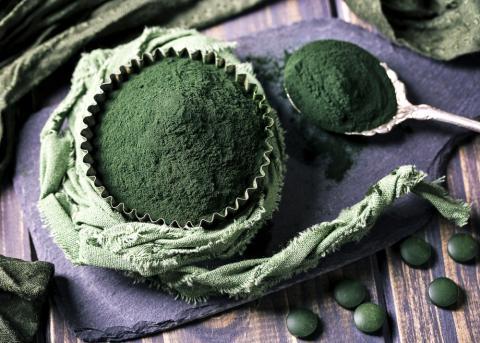 Recently, Dr. Andrew Weil published an article talking about the effects of spirulina. I've talked about it before, and for good reason: spirulina has a wide array of health benefits, containing vitamins A, K, B12, and contains more protein per gram than red meat. While the taste can be less-than-pleasant, spirulina seems to be infiltrating everything from juice bars to health food stores to skin care. 
While spirulina's benefits aren't an exaggeration, it's important to do your research before you start consuming mass quantities of anything. While some people might feel okay adding a half-teaspoon to a smoothie, or trying the increasingly popular "Blue Majik" juices (really, they're completely blue), others, like Dr. Weil, omit it entirely. 
So, how do you separate fact from fiction? Should you or shouldn't you eat spirulina? Here's what you need to know to make an informed opinion:
Health Benefits Of Spirulina
Spirulina contains high amounts of the following:
Protein
B-Vitamins
Iron
Calcium
Vitamin A
Vitamin C
Vitamin D
Vitamin E
Potassium
Selenium
Zinc
Additionally, spirulina contains good amounts of omega-3s and is a powerful detoxifier. While spirulina's nutrients can be an added to anyone's diet, it can be especially beneficial for those who follow vegan or vegetarian diets and may be lacking in iron, protein, and B-vitamins.
Potential Cautions With Spirulina
There are several precautions to think about before consuming spirulina. 
Unfortunately, unless you purchase your spirulina from a high-quality source, it's possible to consume heavy metals from the algae. Over time, this can have serious consequences requiring intense detoxification, often under medical supervision. 
Spirulina, as Dr. Weil notes, can also contain microcystin, liver toxins that can be produced by cyanobacteria, like blue-green algae. Consuming algae with microcystin can result in abdominal pain, vomiting, nausea, sore throat, cough, diarrhea, and pneumonia. 
Lastly, the consumption of some spirulina may be linked to a neurological disease with similar symptoms and outcomes to ALS, Parkinson's, and Alzheimer's diseases. This is the main source of concern, specifically following several studies (like this one), and the reason why Dr. Weil is adamantly opposed to consuming it at all.
To Eat Spirulina, Or Not To Eat Spirulina
As with most dietary options, the choice is yours. Regardless of your decision, it's important to be aware of what you're consuming. If you choose to consume spirulina, here are some ways to keep yourself safe:
Growing your own can be a good option since you know exactly how it was made and the quality of your water.
Additionally, pay attention to the country of origin; certain countries are known for selling more contaminated spirulina than others.
Go for organic, usually. Organic is almost always the best option, unless you know how the spirulina was grown. Organic is unfortunately not confirmation that it's safe spirulina.
Trust your brands. Look for brands that you trust and feel free to email or call the company to ask questions about how the spirulina was produced and how often it is tested for contaminants. 
Keep up to date on the latest science so that you stay informed on the best, most current research. 
Personally, I will still enjoy the odd blue-green smoothie, creamy avocado-algae mousse, or super spirulina snacks, but I don't plan on making spirulina a part of my daily diet, even if I trust my sources.
What are your thoughts? Will you continue to eat spirulina for its benefits or avoid it for its potential toxins?