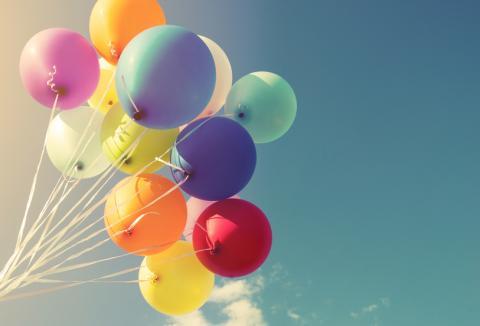 What does it take to be happy? Frankly, a lot. And by a lot, we mean effort, self-thought, self-care, and self-love. Remember, it's a happy person who can spread happiness!
We begin our lives wanting to be happy, but often lose our way when faced with stress—be it work stress, emotional stress, or physical stress. We often turn negative and end up thinking only about the problems we have, forgetting all the good parts of our life. This, in turn, makes us bitter, anxious, and unhappy from the inside out. And we cannot spread happiness if we aren't happy with ourselves. Much like the aura of a calm person can calm us down, an aura of a deeply unhappy person can wind us up. And we do not want to be spreading such darkness, do we? So today, on Positive Thinking Day, let's make an effort to be happier, be more positive, and spread the joy around…
Let's Be Happy Now
Before we begin, I'll let you in on a secret. I'm no bundle of joy myself. I had a tough childhood and since then, have been carrying a chip on my shoulder. And I let loose instantly—no bottled up emotions here; I am an active volcano. But after the outburst, I often get even madder at myself for having said things or done things that shouldn't have been said or done. So then it's back to the beating-myself-up grind. Not a good way to live and this does not make me a happy person. We all have problems in life—some of us may be facing insurmountable odds as of now. But as my husband very often puts it in his calm, logical way: how will feeling upset make things better? As easy as it is to preach, well, it's not as easy to actually follow. But here I am, trying to do just that—taking baby steps towards happiness on an everyday basis and trying to spread the joy around.
Here is what I have l learned during my ongoing journey towards joy, and I do hope it can help spread the joy around and start others on their journeys of joys. So, try and be happy, or at least, happier!
The Morning Line-Up
So what is it that you do when you wake up? Look at the time, mumble under your breath, and dash to the bathroom because there is a ton to do? Well, this is a terrible start to a day because your first thoughts are stressful. Try making your mornings more positive instead!
Wake up and stretch your whole body, working those kinks out.
Now smile, as widely as you can, even if it makes you feel silly and artificial. Even if it makes you feel silly, the smile will soon become genuine.
Now, thank what you believe in—God or science or whatever—for all that you have in your life. Be thankful for who you are, how you look, the life you have, the people that love you, the money that you have, the bed you sleep on, the breakfast-filled larder. Gratitude makes you realize how much you already have…Start a gratitude journal if you need to.
Wake up everyone with a hug—the man or woman in your life, the kids, the pets, the parents. And if hugs make others uncomfortable, try a smile, a high five or a nudge—whatever works. Your positive gestures will let people know you are there for them, and their reciprocity will make you all sorts of warm and fuzzy inside.
Work some magic with that breakfast—the aroma of coffee may energize you, but it might not make you happy. Try clementine, a vanilla milkshake, or even lavender or jasmine tea. These are the scents that will work to soothe you. Plus, a full tummy in the morning means no hunger pang-related unhappiness!
Soak in the sun—a brisk walk, jog, cycle, run—anything to let in the vitamin D and let out the blues. Garden up your outsides or window sills and plant pretty blooms. The gardening itself will make you happier, and the blooms will make you happy. Unless you are allergic to pollen, who doesn't like beautifully scented flowers?
Put on some upbeat music. Who says music is only for parties, or drives, or when friends come over? Even if you are doing the dishes, put on a lively beat and move that booty to match the groove. Music and movement are two things that can really drive sadness away. And stay clear of sobby songs; all they do is inject you with the worst case of blues.
Dress up nice. Seriously, it simply does not matter how you look. Pretty or plain, handsome or not, thin or fat, curvy or bulgy, smooth-skinned or scarred—the thing that matters is that there is no one else like you. Not even your identical twin, if you so have one. You are you, and your job, every morning, is to put your best foot forward. You don't have to look the best, you have to look your best, and that too, for yourself. There will always be someone prettier, younger, more adept at makeup or dressing than you. But there will only be one you, always and forever. So make the best of your uniqueness and shine in the way that only you can.
Finally, before you leave the house, or start on your home job or your chores or whatever that you plan for the day, look at yourself in the mirror. Once you are done taking in the flaws, take in the beauty. Then, tell yourself, aloud that you can do whatever you put your mind to, including being happy. Tell yourself, "I will be happy because I deserve to be happy." You will be surprised to know how many of us self-sabotage our own happiness. Deep down within us is a place where we don't go any longer. There lies a thought—a dark, deprecating thought that we do not deserve our place in life, that we do not deserve to be happy. But that is simply not true, people! We so deserve to be happy, so much so we need to actively seek it out. Happiness does not come knocking like opportunity; it's more elusive. So work it out of your system that you do not deserve joy—for you do. Period.
Continuing the Joy
You must have heard the adage, well begun is half done, right? So if you manage to make your mornings happier, the day, in turn, will become so much brighter. To keep up the joy, here's what you need to focus on. Rather, since I am on this journey with you, here's what we need to focus on…
That's my journey to joy, and I hope to hear your journey as well. Write to us in the comments section below and reach out to us on social media. I'd be happy to get a tweet from you as well. Giving out your story can add a chapter to another's life and spread positivity from the inside out, like gentle ripples on calm water. Smile more and pursue joy with all your heart…You deserve all the happiness in the world, so make it happen!