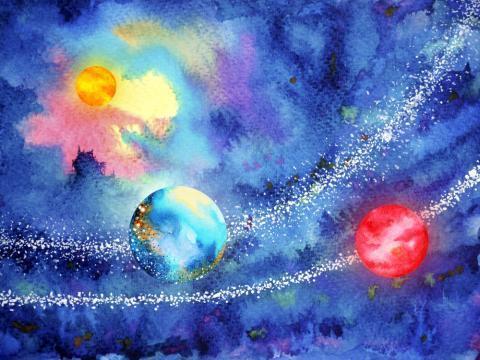 The Karmic Tools Weekly Forecast covers the current planetary transits which affect people in different ways and to various degrees of intensity.  Take notice when it is a Personal planet (Sun / Moon / Mercury / Venus / Mars) interacting with a Social (Jupiter / Saturn) or Collective planet (Uranus / Neptune / Pluto).  And pay extremely close attention when it is a Social planet interacting with a Collective planet because that means something big is brewing that will move large groups of people along their evolutionary paths. Tuning in to the energy and rhythm of the planets can serve as a useful guide as you move along your Individual Path.  It also helps to understand your place within the context of the larger Social & Collective Story. Below, you will find out how these energies tend to manifest, as well as guidance and direction.  NOTE:  There are some days when there are NO CONTACTS (besides the Moon);  there are no missing entries, we just list the actual Activations of each week + the day they happen.
Weekly Forecast:  October 13–19, 2019
10/13 ~ Sun (core Self) ~sextile~ Jupiter (optimism)
This energy is sometimes considered "lucky" but the success you achieve under this influence is more likely due to a positive outlook and clear vision of who you are and what you want. Your life is expanding, your self-understanding is deepening, and it will be easier to be around other people of higher consciousness, improving things and creating opportunities that benefit a larger number of people. There is a healthy dose of optimism around some grand plan, and things are moving, but make sure to do the foundation work to support this larger vision as it manifests in reality. If you are a teacher/guide/leader of any sort, this energy supports your group efforts, so giving workshops, seminars or new classes is totally supported and will benefit you, while serving others.
10/14 ~ Mercury (communication) ~sextile~ Saturn (responsibility)
This energy is really good for being able to objectively see what needs to be changed, fixed or stabilized in your life or environment. One expression of this energy is a tendency toward depression or apathy, but a better expression would be facing what needs to be done and following through on what you have begun. You may feel the need to organize things at home or work, or perhaps take a class or workshop of some sort that will help you attain your current goals. Either way, be focused but not too serious—balance in all things. It's when you focus on the lack and limitation that you feel overwhelmed and sometimes helpless. That's not the point of this energy. It's just time to do some serious thinking, tend to the details, take stock, and make changes accordingly.
10/14 ~ Sun (illumination) ~square~ Pluto (transformation)
This is a challenge to grow out of your comfort zone and into new territory. That said, with Pluto in Capricorn (2008-2024), twice a year for these 16-years, when the Sun is in Aries (Spring) and Libra (Fall), we get an opportunity to grow & change in fundamental departments of life: self vs. other and home vs. work. In this case, and during these years, we are literally changing how we do ALL of this. Each year builds on the previous and we are now 8-years into the 16-year process of transformation—that is the MidPoint, an incredibly potent point in time & space. It is here that you have the most information to consciously work with as you prepare for the next 8 years, and ultimately, what you would like to get out of your conscious efforts and dedication. Sun helps us clarify and when working with Pluto, it is usually what is NOT working, what has run its course and is ready to be composted into new Life, new growth and a new direction (for Self). Pluto is the Purifyer, distilling things back to their true and original essence; fight that and it can be painful; work with it consciously and it can be transformative and will heal at the deepest root of any challenge. You can use this activation to honor that which has become obvious, or is highlighted in the here & now and purge or purify this energy. You are deeply supported for releasing old patterns and setting new conscious practices into action. Tie up loose ends, close multiple chapters, mourn & move on. As you do that, you will feel lighter & brighter and more grounded in your true Self, your evolved Self.
10/15 ~ Mercury (ideas) ~trine~ Neptune (dreams)
This energy activates your creative process & intuition. You may catch yourSelf unconsciously drifting aimlessly but a better use of this combination is to open to the other realms for ideas & information and play with it, free flow, see where it leads. It is not the time for pragmatic analysis, but more a time to explore the infinite possibilities available to you, as well as what's going on in your own consciousness. You may be more sensitive than usual, opening yourself to information or awareness that isn't always that readily available. Remember to keep good boundaries when "opening" like this and if you have to be around people, try to maintain the mystical, creative vibe this energy is best for.
10/19 ~ Mercury (communication) ~sextile~ Pluto (transformation)
This energy provokes the need to delve deeper into the ideas or information being presented at this time, whether personal or professional. You will want to dig deeper, ask the hard questions, and gather insights that are deeper and more profound than usual. In your professional/public life, you may find yourself doing better due-diligence and in your personal/private life, you may find yourself digging a little deeper into your own mental patterns & personal history (that has led to 'now'). As you make these connections and begin to grasp these new insights, they will gain traction and you will become more grounded in your own Truth. We all get excited about those kind of ah-ha moments, and you may find yourself wanting to share them with others who may or may not be ready to hear such deep Truths or have the conscious awareness to even process them, so use some discernment around who and when you share these new-found insights.
This article originally appeared on Karmic Tools!