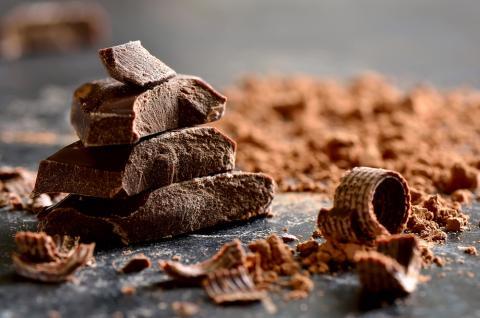 July 7 is World Chocolate Day—so here's how you can incorporate this delicious and decadent treat for better health, happiness, and beauty…
Eating (dark) chocolate releases the same endorphins that get you happy after a good bout of exercise. And there's something about the smell of chocolate that sets you off on a sensuous journey as well. So is there any way to combine the two? Get the best of chocolate minus any ingested calories? Well, you can always try applying chocolate instead. Our olfactory sense is such that sniffing something delicious for a while can make you feel satiated enough to not want to eat it.
In fact, research at the Human Olfaction Laboratory at Middlesex University has indicated that just the smell of chocolate can improve your mood. And you have probably noticed the spring in your step after you spent a little time at the local patisserie and got a whiff of the intense chocolaty smells coming from there.
The Secret To Eating Chocolate For Happiness & Health
Unlike the tongue, the nose (or olfactory benefits of chocolate) does not discriminate between dark chocolate (which tastes far more bitter) and the sweet milk chocolate we have all grown up on. But when it comes to eating chocolate, it's the dark chocolate that gives you all those health benefits. The ultra-sweet milk chocolate only gives you a barely-there happy feel before you end up feeling guilty over all the calories consumed.
So should we stay away from the harbinger of evils, aka sweet, sweet chocolate? Frankly, most dieticians and nutritionists say that if you eat even sweet chocolate in moderation, it does you no harm. But if you are looking at chocolate to provide you with all the health benefits that it naturally comes pre-loaded with, you need to choose dark chocolate with at least 70% cocoa in it. You could always make your own healthy chocolate at home to get your dark and decadent fix. An ounce or two (30-60g) of 70% or more cocoa containing dark chocolate will do your heart and health a lot of good, primarily because of all those good antioxidants as well as a high level of magnesium, vitamin B1, and much more.
Also remember, chocolate as a flavor is naturally bitter, much like coffee. If you like chocolate that's sweet, you may in fact like sugar more than chocolate. Choose wisely for sugar isn't anyone's friend, as science has been proving more and more often in the recent times.
In case you want to save on the calories and get the happy mood benefits of chocolate, as well as glowing skin and shiny hair, read on. Studies have shown that applying cocoa-rich chocolate helps protect the skin from photochemical reactions, thus keeping aging, wrinkles, collagen destruction, cancers, lesion and other issues at bay. So what are you waiting for? Chocolate can help brighten and soften the skin; lighten sun spots and pigmentation to give you an even tone, and basically make your skin look a lot healthier and more nourished on the whole. Plus, it also protects the skin from further UV damage. Similarly, it calms frizzy hair down and adds shine to dull tresses and gives a healthier texture to the hair by repairing UV damage too.
Chocolate Scrub
You can melt 2-3 squares of your favorite cocoa-rich chocolate in a double boiler (chocolate burns on direct heat) or choose to whip some unsweetened cocoa powder with milk (normal to dry skin) or yogurt (oily skin). Add 1/2 teaspoon coffee grounds to the same for that grainy texture. Mix well and scrub-a-dub away. Along with a chocolaty benefit, the lactic acid in milk or yogurt helps exfoliate the skin better while the coffee grounds not only scrub dead skin cells away but also expel any excess water accumulated in the soft tissues.
Chocolate Face (& Body Mask)
For days you have the indulgence of applying a chocolaty gunk to your body and letting it dry for 15-20 minutes. This is the recipe to follow! Melt a whole cocoa-rich bar of chocolate or use 5-6 heaping spoons of unsweetened cocoa powder. Add one cup gram flour (besan) or ground oatmeal and 1 teaspoon turmeric powder. Now turn this into a paste using the right amount of milk (for winters), rose water (for rains) or aloe vera juice (summers). Apply the same evenly to all exposed skin—face and body. Keep on for 15-20 minutes. Take a damp washcloth and start to scrub and rub the paste off your face and body. Shower off with a homemade mild soap or body wash if you feel sticky, or just use water instead.
Chocolate Hair Mask For Curly Hair
Why are we mentioning curly hair separately? Because for some reason, it's thought to be the bane of all hair types. Many hair "experts" believe that it's best managed by straightening it off. Plus, I have curly hair—and this is my go-to mask for frizz-afflicted curls that refuse to shine. I have naturally dark hair so this mask works for brown-haired gals. For blondes and even strawberry blondes, half both the chocolate amount and the time you leave it on. Chocolate isn't a hard stain like beet so it usually comes off easy with shampoo—still, please use your own discretion.
To make: mix 5 tablespoons unsweetened cocoa with one egg yolk and 2 tablespoons each of honey, thick yogurt, and olive oil. Mix well into a smooth paste and apply all over the hair and scalp, beginning with the roots and coating till the end. Tie up the hair and put on a shower cap to let your head steam and stew a bit to soak in all the goodness of the ingredients applied. Shampoo off with a mild shampoo and condition and style as usual. You will see the difference in your gorgeous curls soon after. Results last a week, so you can repeat this every week for a headful of curls no one will dare ask you to straighten out!
Chocolate Hair Conditioner For All Hair
Mix 2 teaspoons cocoa powder with 2 tablespoons coconut milk, 2 teaspoons mashed banana and 1 teaspoon almond, olive, or jojoba oil. Add in 3 drops of your favorite essential oil. Zap it well into a smooth paste. After you shampoo, apply this onto your head from scalp to end. Keep on for 10 minutes and don a shower cap if possible. Rinse off with plenty of water, and style as usual.
Have a Happy World Chocolate Day indeed—indulge with care and use chocolate as a tool for health and beauty, as well as happiness.