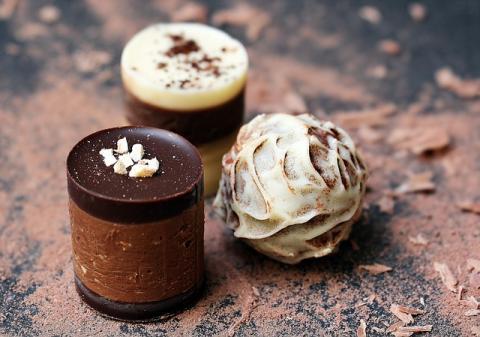 If you thought chocolate was good, it is, and in more ways than one. Adding it to your beauty repertoire can give your skin a vitality boost…
That stolen bite of chocolate, a blissful dessert – memories of chocolate are often sweet, delicious and mouth-watering.  Add to that the endorphin high that dark chocolate  provides, and it makes for happy feelings all around. But chocolate has another, far more addictive use – when used in beauty rituals, it can give you awesome skin. Why, you ask?
Chocolate is loaded with antioxidants and moisturizing agents – it can tackle fine lines, protect your skin from the sun, give it a soft and supple glow and generally provide a host of anti-ageing benefits to the skin. While dark chocolate is best for eating, for application you can use any kind of chocolate.
DIY Recipes For The Skin
Syrupy massage: The next time you are whipping up a batch of shakes, dab a little of the chocolate syrup on your palms, go the bathroom mirror and start massaging your face with firm upward strokes. Massage for 5 minutes or so, wetting your hand with a little water if it gets too sticky. Wash off for hydrated, soft skin. Refrain from trying to lick it off!
Leftover chocolate scrub: Once you've made your chocolate cookies or cake - chances are that there will be leftover batter stuck to the mixing bowl. Scoop it up, add a little sugar and use this for a face and body scrub. The goodness of chocolate, butter and flour can give you soft and sun-protected skin. No eating the batter – remember the raw eggs before you give in to the chocolate!
A cocoa-coffee mask: Both chocolate and coffee are great for your skin, and coffee is a cellulite buster too. Mix 1 tablespoon each of cocoa and coffee powder and add in enough milk to form a paste. Apply this on your face (or your body as a wrap) and wait till it has dried. Wet it with water and gently scrub off for youthful and glowing skin. While this may smell heavenly, believe you me, it doesn't taste nice. Seriously, I'm enough of a chocolate & a coffee addict to have tried!
DIY Recipe For The Tongue
Chocolate is not only good for the skin, it's great for the tongue, too, as all chocolate lovers will agree. So here is one fallback chocolate recipe that I whip up in a jiffy, using nothing but leftovers. Waste not, want not!
Yummy Chocolate Balls: Kids and cookies mean an inordinate amount of crumbs. And while my dog is a veritable fan of cookie crumbs, I do keep his sugar intake to a minimum and instead use the cookie crumbs to whip up what my family calls "The Scrumptioust, Yummiest Chocolate Balls Ever!"
Okay, maybe I exaggerated a bit. To make them, scrape out all the crumbs from your cookie sheet, add in a scoop or two of any milkshake mix powder (even Bournvita, Horlicks or Pediasure will do!) and then top up with Hershey's chocolate syrup. Blitz this in the blender for a gooey, sticky paste. Roll up the paste into balls, and roll each ball in some powdered sugar or milkshake mix to set it. Refrigerate for 30 minutes before serving!
Have any chocolate recipes, skin or otherwise to share with us? Do write in the comments section below, we're salivating.  
Happy Festivities!