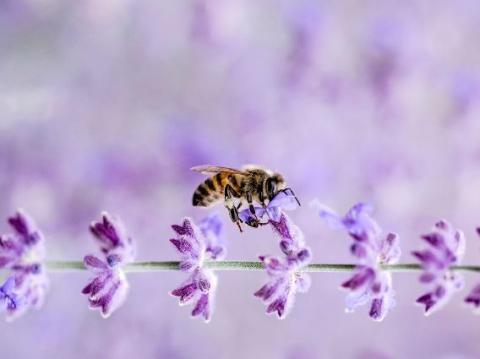 Beekeeping has been going on in the United States since the 1800s and in Detroit since the 1930s. In the last two decades, the Motor City has seen a resurgence in beekeeping initiatives, hand-in-hand with the growth of urban agriculture within its borders. Detroit Hives is one such endeavor, founded in 2017 and run by two beekeepers, Nicole Lindsey and Timothy Paule.
"We want to educate people about bees and spread the knowledge of the medicinal properties of honey, and to preserve the bee population, all while removing blight," Paule said. He and his girlfriend and business partner Lindsey became interested in local raw honey when he used it as remedy for a persistent cold. Through beekeeping, they thought the weed- and wildflower-filled lots throughout the city that fuel allergies for some could become the basis for a new eco-friendly and healthy enterprise, along with a source of neighborhood regeneration.
Over the last few decades, Detroit's car industries became more automated, factories dispersed, and foreign competition grew, eventually leading the city to file for bankruptcy in 2013. Detroit lost many industry-related jobs and residents while it suffered both corruption in leadership and racial tensions and inequities. Crime, areas of abandoned space, and urban blight increased. City farmers and beekeepers seek to revitalize these spaces and bring new life, beauty, and purpose to their communities.
Lindsey and Paule learned beekeeping by studying the trade with two local organizations: Keep Growing Detroit and Green Toe Gardens. They are now certified beekeepers and own a lot on Detroit's East Side, which has several hives and garden plots. They purchased the land with the support of the Detroit Land Bank Authority, which empowers community members and groups to repurpose the city's abandoned properties.
According to the nonprofit's site, its mission is, in three parts: "Eliminating blight in the city of Detroit by repurposing vacant lots, preserving the conservation of honey bees, and providing tours and bee education for the community." Detroit Hives has already offered a community bees workshop at a high school and plans to expand its footprint to include additional lots and its offerings, such as tours, in 2018. It also sells honey to the public and local vendors, who use it in craft food and drink products like sauce and beer. Paule and Lindsey report their neighbors have come to appreciate and support the positive transformation they have brought to the lot, which was once used as an informal trash dump.
This bee-loving group's motto is "Work Hard, Stay Bumble."
"We're hustlers, innovators, and thinkers. Bees work really hard, and they're humble. In Detroit, you have to work hard and be humble. It'll take you far," Paule said.
There are at least several thousand hives in Detroit and City Planner Kathryn Lynch Underwood wants to support beekeeping in the city by officially legalizing it through an ordinance. Her plan would formally allow this undertaking outside of farms, schools, and homes, with a minimum of 10 feet of distance between the hives and public walking, riding, and driving paths and roads. A beekeeper's license would also be required from the city.
Underwood sees growth and progress on the horizon for her city's diverse urban agricultural undertakings. She says, "The urban ag community in Detroit is robust and organized—always seeking to push personal, political, and structural limits regarding any challenges to the growth of food security and food sovereignty."
Honeybees pollinate many of the crops we love, including apples, coffee, strawberries, and numerous beans, among many others. Human land development and agricultural chemical spraying practices have pushed bee populations into a severe decline. Projects like Detroit Hives, which create bee-friendly spaces such as pesticide-free gardens in urban areas, aim to support bee populations' diversity and overall well-being. Some scientists warn that urban, farmed bees can increase competition and take resources away from their wild counterparts, while others report that bees can benefit from these city-based initiatives and are just as happy to forage in urban green spaces as in undeveloped areas.