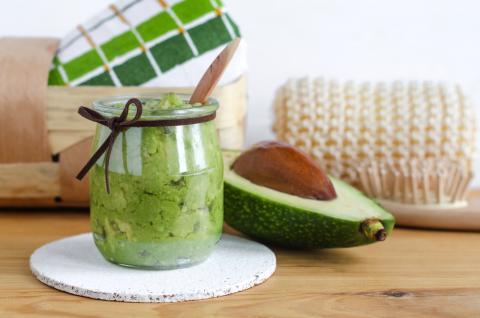 Unless you're lucky enough to have touchably-soft hair with bombshell volume all year long, the impending dry and unforgiving cold winter weather is sure to put a cramp in your hair style. If you're like me, by late autumn when all the leaves from the trees have fallen, your hair is also looking dull and dim and lacking its once spring-like bounce. Come winter time, my hair can become frizzy, static, and dull in a way that seems to scream, "moisturize me!" However, the good news is that there is a natural cure-all for dry and damaged hair and it doesn't just increase the much needed moisture content in your hair but revives it with vitamin-rich, mineral-giving ingredients that derive from nature's most cherished fruits. With a consistent and regular application of my homemade moisturizing hair masks, the elasticity and strength of your hair will increase and your locks will appear healthier, more lustrous, and stunningly voluminous over time.
Apart from conditioning my hair, I swear by making homemade hair masks, not only because they work marvelously but because these masks can be made with natural ingredients that you can find in your kitchen or your nearest grocery store. From the high concentration of potassium that's found in bananas to double the amount of potassium that's found in avocados and the high content of vitamin D and vital minerals found in pumpkin juice, these all-natural hair masks are guaranteed to revive your hair with the fruit of nature. Literally. The benefits of the central fruits in each of my hair masks are abundant. The fresh pumpkin juice in my Pumpkin Hair Mask, for example, is loaded with vitamins A, C, E, and D and rich with hair nourishing minerals like iron, calcium, magnesium, sodium, and zinc that will give strength to your dead ends and wayward strands. Likewise, the bananas in my Banana Hair Mask contain high levels of vitamins B1, B2, B3, B6, B9, B12, C, D, and E that work synergistically to increase blood flow to your scalp to effectively help promote new hair growth in replace of fallen strands and nourish the strength of your strands from the inside out. If your hair seems to take longer to grow, then it's most likely vitamin deficient. While over-the-counter masks may keep some moisture in, these products may also contain various preservatives and harsh chemicals that may weigh your hair down. However, if you choose to nourish your hair on a natural and cellular level, then you can not only increase the growth of your hair but protect and strengthen it at the root of your scalp.
When it comes to infusing your dry, brittle, or weather-stressed hair with lasting health and wellness, then you can't go wrong with adding one of my natural hair mask recipes into your beauty routine. To get the best results, I suggest you treat yourself to one of these aromatic hair masks every week after you shampoo and before you condition your hair and leave it in for up to 15-20 minutes at a time. This way you can be sure your hair receives substantial moisture and absorbs the nutrient-dense healing properties that can be found in every one of my homemade hair masks. My following three DIY hair mask recipes will renew your faith in nature as it stimulates growth, strength, and elasticity.  Just mix the ingredients for your selected recipe together, and apply the mask to your hair—then wait 15-20 minutes before shampooing it out.
Pumpkin Hair Mask
1 cup pumpkin juice or 1 cup pumpkin puree
2 Tablespoons honey
1/2 cup yogurt
Avocado Hair Mask
1 cup avocado pulp

1/2 cup coconut milk

10-15 drops lavender oil
2 Tablespoons olive oil
3 Tablespoons honey
Banana Hair Mask
2-3 bananas depending on your hair length

1/2 cup coconut milk or whole milk

2 Tablespoons honey