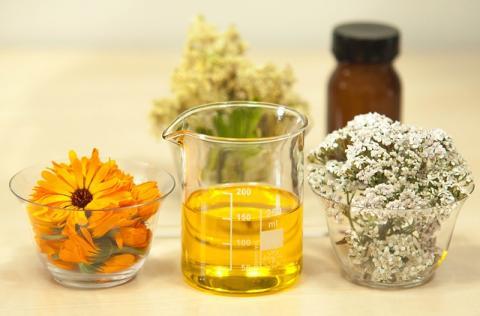 A lot of the shampoos and conditioners out there are filled with toxins (and are costly!). To save a buck and ditch the chemicals, try making your own shampoo and conditioner with these recipes. Just remember that everyone's hair is different: What works for me may not necessarily work for you. In order to find out what your hair truly needs, I suggest experimenting with the herbs you use in these recipes. Try different herb combinations and see which ones your hair responds to best. Personally, my hair loves coconut oil, rose, and peppermint. It may take a few tries for you to figure out which carrier oils, herbs, and essential oils your hair enjoys best, but it's always worth it.
DIY Herbal Shampoo Recipe
Ingredients:
2 ounces pure castile soap
4 to 5 ounces of water, infused with herbs (suggestions included in conditioner recipe for specific hair types)
1/4 teaspoon carrier oil (such as coconut, avocado, olive, or jojoba oil)
20 to 40 drops essential oils (Lavender, peppermint, and rose work well)
Directions:
First, you need to make the herbal infusion. Place a teaspoon of each type of herb you wish to use in a heat proof jar or glass. A few ideas for which herbs to use are listed in the next recipe below, but some examples include chamomile for light hair, cloves for dark hair. Pour one cup of simmering hot water over the herbs, then cap with a saucer. Let the herbs steep for several hours. Strain and set aside 4 to 5 ounces.
Now add the carrier oil, essential oils, and castile soap to the water. Gently stir it, but try to avoid whipping up any bubbles. When it's mixed together well, pour the mixture into a container (empty shampoo containers are perfect).
If you wish, you may add a few drops of vitamin E or rosemary extract to your mix, though this is optional. They're powerful antioxidants that will only improve the quality of the shampoo.
________________________________________________________
DIY Herbal Conditioner Recipe
Base Ingredients
1 teaspoon carrier oil (such as coconut, avocado, olive, or jojoba oil)
1 teaspoon vegetable glycerin
1 tablespoon emulsifying wax
1/2 tsp vitamin E (or 2 capsules)
5 drops grapefruit seed extract
10 to 40 drops of essential oils (examples: Lavender, peppermint, and rose)
1/2 cup of herbal infusion (ingredients below)
Ingredients for herbal infusion
¼ cup distilled water
1 tablespoon of the herb of your choice (see below)
For light hair: lemon peel, chamomile, dried calendula
For dark hair: Dried rosemary, cloves, black tea
For red hair: Hibiscus, cinnamon bark, dried calendula
For grey hair: Rosemary, thyme, dried sage
Note: When all else fails, you can never go wrong with using lavender or rose for an herbal infusion.
Directions
Put the carrier oil, emulsifying wax and glycerin into the top part of a double boiler. Stir it together while warming it over low heat until the wax is completely melted. Remove it from heat and add the vitamin E. Mix well.
In a separate pot, add the distilled water with the herb(s) of your choice (feel free to choose more than one herb, just as long as you only use 1 tablespoon of herbs total). This will be for the herbal infusion. Bring the pot to a boil, then remove from heat and let steep for 30 minutes to an hour. Strain out the herbs: The water left has been infused with the herbs you chose.
Now you need to warm your herbal infusion and can do so over the stove in a pot or in the microwave. Warm it until it is lukewarm: This will keep your conditioner from separating later on.
Slowly pour the herbal infusion into the mixture you made earlier (carrier oil, emulsifying wax, glycerin, vitamin E). Stir with a whisk continuously so that the mixture becomes smooth and creamy. Let the mixture cool down a little.
Stir in the essential oils of your choice and the grapefruit seed extract. Pour the natural hair conditioner into a clean bottle and let it cool before putting the lid on. Make sure to shake the bottle occasionally: This will prevent ingredients from separating. Store in a cool, dark place until you're ready to use it.
Note: Since neither of these recipes contain preservatives, shelf life should consist of 1 to 2 weeks. Be sure to check for spoilage before each use. If you plan on gifting these, make sure to tell the receivers to use the shampoo and conditioner as soon as possible.