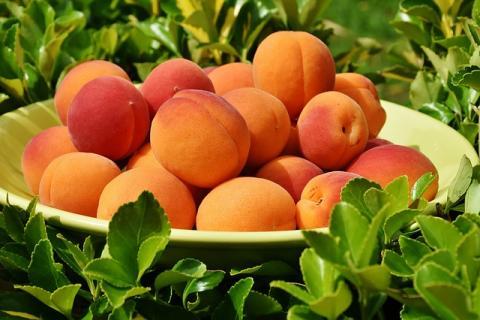 While some of us are basking in the glory of all that is spring, others are upset. Why? Because summer is inching nearer and nearer with each passing moment, and some of us may have gained a few unwanted pounds this past winter. However, don't let the vicious cycle of the seasons get you down! To get summer body ready, all you need to do is begin your clean eating with the fresh, seasonal produce of April! Once you start basing your meals off of in-season fruits and veggies, you'll be showing off the positive effects of eating right in a brand new bathing suit in no time. Pool party, anyone?
1.     Apricots: These sweet stone fruits rockin' orange hues are great little low-calorie, fibrous snacks! If you're a fan of peaches, these taste somewhat similar, but with a faint tartness. If you have a bunch, consider drying them yourself to snack on later, or turning them into yummy apricot preserves.
2.     Arugula: If you're into spice, this one's for you! Arugula is a green, often found in healthy salads dressed with vinaigrettes, that packs a peppery punch. Personally, I prefer it mixed with other greens, rather than eating it all on its own. To calm down the flavor, wilt it like spinach. For a spicier take on pesto, use it in place of basil.
3.     Chives: I'm someone who truly appreciates and loves nicely caramelized onions. In other words, I'm not a fan of raw onions. For anyone like me, who likes oniony flavor that isn't too intense, chives are the answer. Growing up, we always had a huge container of freeze-dried chives on hand because chive-less baked potatoes can't even really be called baked potatoes. In April, opt for fresh; they're even better! Use them to add flavor to vinaigrettes, make compound vegan butter and cream cheese, or freeze them for later.
4.     Dandelion Greens: Dandelion greens, which are full of iron, are somewhat bitter like most other greens. They're most palatable when sautéed, used in salads and sandwich fillings, or in pesto. So, next time you go pullin' weeds, think twice before you toss those dandelion greens to the side; they could be the star of your dinner tonight!
5.     Rhubarb: Choose the deeply red stalks of rhubarb for maximum sweetness because it's notorious for being incredibly tart, which is why rhubarb is almost always paired with sweet strawberries. To treat yourself a bit for all the clean eating you've been doing, make a strawberry rhubarb pie, or jam (if you think you can't control yourself around an entire pie). It's okay to splurge every once in a while, as long as you don't get too crazy! Everything in moderation, right?