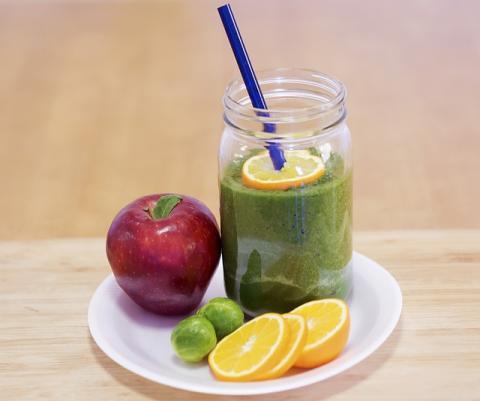 It may be strange to my veggie-loving self, but, apparently, some people aren't too fond of the goods that are good for you. Some people grew up not wanting anything to do with the stuff, and continue to be less than enthused by fruits and/or vegetables, even into adulthood. If you're one of these people, I'm happy to share a few ways to incorporate more fruits and veggies into your meals that just might convert you into a plant-based food fanatic. Parents who are concerned about their picky eaters' health (and their own) can use these ideas to disguise those forbidden foods, while still creating delicious dishes. On the other hand, for those of you who can't seem to find the time or energy to concoct produce-packed plates, you'll be pleased to know that these health-inspired tips are speedy and nearly effortless.
Banana "Ice Cream": Try handing your kid a bowl of frozen, organic bananas blended with a little almond milk and unsweetened cocoa powder. I can guarantee you anyone who eats this will be ecstatic about eating a bowl of what appears to be chocolate banana soft serve.
Fried Cauliflower, Not Chicken: Okay, seriously, if you haven't tried this already, you must. Cauliflower florets can be battered, fried (or baked), and tossed with the same sauces that come on all sorts of chicken wings. The texture is amazing. The flavor is incredible. It's a vegetable. What are you waiting for?
Simple Fruit Sauces: Next time you're making a weekend brunch, top the waffles and pancakes off with fruit "syrups," instead of the regular stuff. On the stove, reduce naturally sweet fruits of your choice with a tiny bit of organic sugar and water to make a fabulous, healthier topping.
Guacamole as Salad Dressing: Skip the ranch! I promise you will not miss it. Start topping your greens with mashed avocados that are creamy, full of healthy fats, and perfectly spiced to have just the right amount of kick.
Pasta, Pasta, Pasta: Pasta is so versatile. You can buy pasta itself that is made with veggies nowadays (or just use spaghetti squash for non-processed veggie noodles). Plus, you can throw just about anything into a baked pasta dish (roasted veggies are great) with a little bit of vegan cheese, and it'll still be a crowd pleaser. For example, kids will not turn away ooey, gooey mac and cheese goodness that's laced with spinach because they won't even notice the greens.
Stuffed Peppers: One way to have some fun is to allow the kids to actually eat their bowls. How? By using red peppers as vehicles for dinner, of course. Stuff peppers with some quinoa with veggies hidden in it, and sprinkle vegan cheese on top. After they've baked, you'll be diving into a yummy, tender treat.
Smoothies: Everybody loves fruity smoothies. A secret to getting some veggies into your kid without them knowing is to make their favorite smoothies, but add some kale and/or spinach to the blender too. If the smoothie looks too green, tell them apples, kiwis, or grapes are the culprit (they won't know the difference). This trick works on adults, as well!
Zoodles: Zucchini + noodles = zoodles. I bought a spiralizer just to make these because they're wonderful. Carb-overloading on pasta is a real thing, and these zoodles could be the solution. Once you've tossed some zoodles with your favorite pasta sauce and vegan parmesan, you'll be doing a happy dance. These strands of pure zucchini are as good as regular noodles, but much, much healthier.