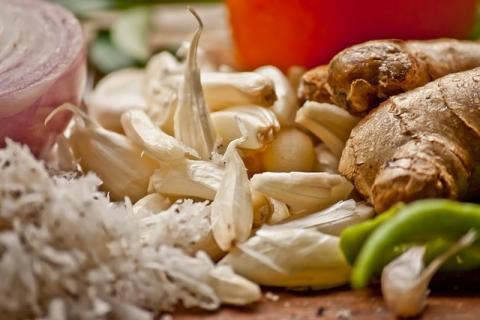 Cold? Cough? Stomach a bit upset? Make a ginger garlic broth that you can sip as a soup, or have with rice to detoxify your system and heal yourself with these Ayurvedic 'heating' herbs.
The gingerol in ginger and the allicin in garlic are two of the best medicines that your vegetable vendor or kitchen garden can provide. They are digestive and heating and have a whole lot of antibiotic and anti-pyretic properties that can drive off colds, coughs and even your normal everyday stomach ailments.   
Ginger is rich in phenolic compounds that reduce gastro-intestinal irritation, stimulate bile production and also alleviate nausea. It's also a pain reliever and can reduce both muscle pain brought on by too vigorous an exercise as well as painful stomach cramps that accompany periods. It's also an anti-inflammatory and can reduce inflammation of inner tissues as well.
Garlic, on the other hand, can boost the workings of the immune system and its anti-oxidant powers can aid in providing longevity, too. It reduces cholesterol and lowers blood pressure, is a friend of your heart, and is an athletic performance enhancer too. Best of all, garlic also reduces heavy metal toxicity in the body and is great for bone health.
Now that we've done a quick revision of why these two are more medicines than herbs, here's a recipe that combines the best in them both, be it medicinal or taste, and alleviates plenty – from coughs and fevers, to stomach ailments and headaches…
It's a recipe that has been passed down from generation to generation in my mom's family, and the years of its existence haven't seen it change at all – except the salt and pepper to taste bit!
The Ayurvedic Ginger-Garlic Broth
Ingredients:
2 tsp ghee
½ tsp cumin seeds                                                       
1-inch piece of ginger, washed, peeled and grated
1 garlic bulb, the cloves peeled, chopped and crushed
¼ tsp cayenne pepper (or to taste)
A pinch of turmeric powder
1½ cups water
1 tsp finely minced coriander (cilantro) leaves
Salt & pepper to taste
The method:
Heat ghee in a pan and add in the cumin seeds.
Once they sputter, add in the garlic and ginger and fry on low till slightly pink.
Put in salt, pepper, turmeric and cayenne pepper and mix well.
Add in the water and give everything a vigorous stir.
Let the water come to boil and then simmer on low till the broth is reduced to about one cup.
Garnish with coriander and serve piping hot as a soup, broth or with a little rice…
You can strain it if you like, since the goodness of the garlic and ginger are in the liquid already. Hope you enjoy this steaming cup and may this broth be blessed indeed for you.  If you have any queries or comments, do write in to us in the comments section below…